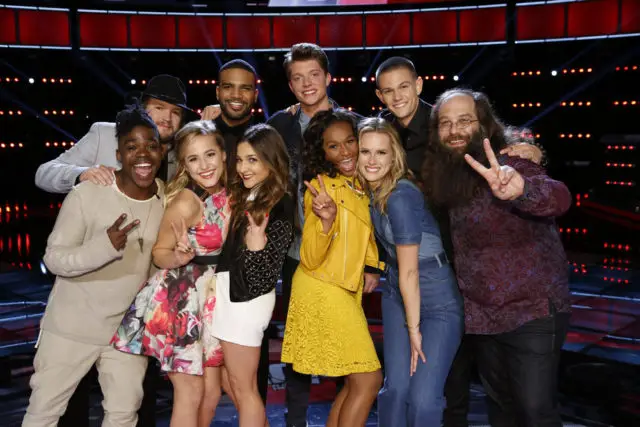 Tonight, The Voice 10 Live Finals continue as your Top 10 perform for your votes. Check out the songs each of the finalists are set to perform live tonight. iTunes clips included as always. Don't forget: Downloads count as votes, so you might consider waiting until tonight's show is over to download.
OMG Daniel Passino is singing the asteroid song. Of course he is! That's got to get him eliminated, right? Alisan Porter strips it down this week with a folk song, which is a smart thing to do after last week's bombast. Adam Wakefield has the potential to bring the house down this week. I was hoping Mary Sarah would go back to being old school, and oh boy did she, in every conceivable way. Paxton Ingrams's song choice? OK then. Nick Hagelin singing an obscure Michael Jackson song. Not sure that's going to help him. Bryan Bautista goes even cheesier this week with a bi-lingual number. NO Christina. Disappointed Hannah Huston is singing the overdone "Rolling in the Deep." Laith Al-Saadi is sticking to his sweet spot. Will Shalyah Fearing make up some ground covering Emeli Sande? Hm.
As always, we'll be live blogging The Voice beginning at 8 ET.
The Voice 10 Song Spoilers Top 10 Performances
Adam Wakefield – Team Blake – I Got a Woman by Ray Charles – Download from iTunes
Mary Sarah – Team Blake – Stand By Your Man by Tammy Wynette – Download from iTunes
Paxton Ingram – Team Blake – It's All Coming Back to Me Now by Celine Dion (Meatloaf) – Download from iTunes
Alisan Porter – Team Christina – Let Him Fly by Patti Griffin – Download from iTunes
Nick Hagelin – Team Christina – I Can't Help It by Michael Jackson – Download from iTunes
Bryan Bautista – Team Christina – Promise by Romeo Santos (Partly in Spanish) – Download from iTunes
Laith Al-Saadi – Team Adam – The Thrill is Gone by BB King – Download from iTunes
Shalyah Fearing – Team Adam – My Kind of Love by Emeli Sande – Download from iTunes
Daniel Passino – Team Pharrell – I Don't Want to Miss a Thing by Aerosmith (LOOOOOOLLLL) – Download from iTunes
Hannah Houston – Team Pharrell – Rolling in the Deep by Adele – Download from iTunes