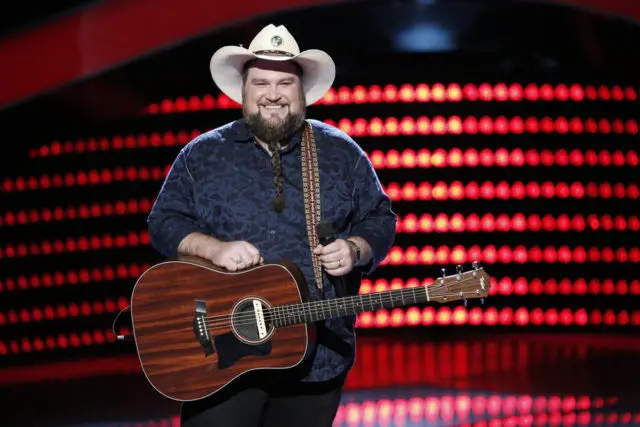 Sundance Head didn't make it past the Top 16 when he competed on American Idol in 2007, but nine and a half years later, he's determined to make the most of his experiences as a contestant on The Voice season 11.
The singer, whose father, Roy Head, charted a hit song in the 60's, spoke with reporters on a conference call earlier this week. He believes he "squandered" his time on American Idol, but nine years raising a family in Texas as he pursues a career in music has made him better able to make the most out of his new experience.
How did Sundance wind up auditioning for The Voice? "I have a lot of people that believe in me and I have children now that are getting older. And I wanted to show them that it's important to take risks. And I accepted the challenge because they asked me to do it. It's a learning experience for my family also. For me, I think I've grown tremendously as a musician, an artist, and a vocalist. And I just wanted to give it another shot if it was possible."
Why did Sundance choose Blake Shelton as his coach? He was this close to choosing Adam Levine! "To be honest, I was going to choose Adam if he had turned around for me. But when the bullets were flying, I kind of just – I'm not sure how I chose Blake. I intended to choose Adam and then I started thinking about all the success that Blake's had in the business and he's pretty much done everything at this point that I would like to do. He's such a beautiful human being, a wonderful person, and he's just happy all the time and he's got such a positive energy and I wanted to try and capture some of that if it was possible."
How would Sundance compare the American Idol vs The Voice experience? "I really feel like I squandered the opportunities that I had on American Idol. I was unprepared. I definitely was not ready for what went down. I think that they spent a lot of time trying to help me out and trying to guide me in the right direction. At the same note, I was a little bit naïve about the whole process and I should've paid more attention to what the show was trying to advise me to do as far as leadership. The difference that I can see [with The Voice] is they [help] the artists and the performers to grow and go out of their way to try to give you outstanding advice and leadership. It was probably done that same way during the Idol show. I just like I said was immature and unprepared as a human being for that whole experience. And I'm really thankful this time that I'm going to get another shot. And I hope that this time, I can do things correctly."
Sundance learned from the missteps he made during his run on Idol: "I'm thankful that [I have] this other opportunity. But I also would advise anyone that can hear this that has any kind of aspiration to be a singer or a vocalist–don't be scared and give it a shot. If you don't take the chances, you're never going to know what success is. That's my only advice.
Sundance talked a bit about the 9 years after he left American Idol, which included being singed to a major label, and later, a day job: "After American Idol, I signed with Universal Motown. I'm the only artist on that show that signed a major record deal that didn't make it into the top five. Had a four-year contract with Motown and we recorded some stuff. They decided not to release anything, so I just rode the contract out. And then whenever I came home, I started getting work. You know, people wanted to hire me but I didn't know enough songs on the guitar to play 45 minutes. So I had to start learning how to be a musician all over again.  One thing I'm really thankful about the American Idol [experience] is that it did teach me in my soul that what I wanted to do for the rest of my life was write music and be a musician. I spent the last good part of nine and a half, ten years to trying to devote my life to being the best father, husband, son that I can be along with making a living playing music and writing songs and figuring out how to juggle all of it to create a good life for my family."
I did take a job at a machine shop and I worked there for the good part of eight years. I was an expeditor for a machine shop. And when the oil companies started to go down about a year ago, I told my wife I needed to do music full time. So I've been doing it full time now for a year."
Sundance is excited for the future: "I'm just really excited about everything that's going on right now. And I've met a bunch of wonderful people on this show.  Back in Texas, I'm nominated for new male vocalist, artist, and song of the year with a song called "Darling Don't Go." The Music Awards are this month. I'm really excited to see if we were able to bring any hardware home. But even just to be nominated I'm really proud of that."
Let's take a trip down memory lane. Here are a few of Sundance Head's American Idol 6 performances:
Sundance's "Stormy Monday" Audition
Night's in White Satin – Top 24
https://youtu.be/jIlbNjUs5Nk
Mustang Sally – Top 20
https://youtu.be/9kvKq5Xy6RM
Sundance was eliminated during Top 16 week after performing Pearl Jam's "Jeremy."
Sundance's The Voice Blind Audition
https://youtu.be/28i9QHEWuAc
Bonus Video: Sundance and his father perform Roy's 1965 hit, "Treat Her Right."