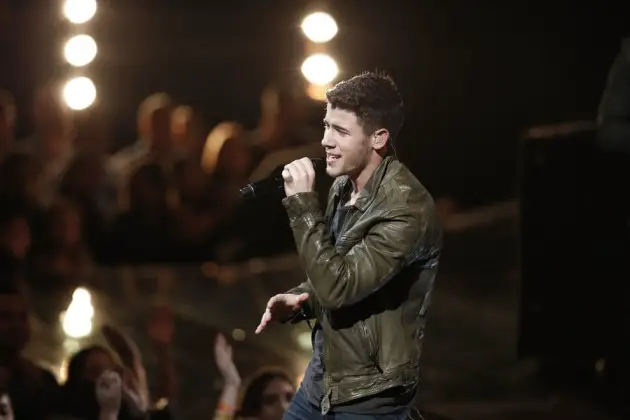 The Top 12 kick off the finals on The Voice on Monday April 13. As was announced on the show last week, country superstar Reba McEntire will mentor the finalists. Additionally, former adviser, Nick Jonas, will drop by to sing his latest single, "Chains." Read the official release from NBC.
UNIVERSAL CITY, Calif. – April 10, 2015 – Multi-platinum-selling recording artist Nick Jonas is set to perform the single "Chains" on the Tuesday, April 14 telecast of NBC's Emmy Award-winning musical competition series "The Voice."
"Chains" is the second single from Jonas' self-titled album, which was released in November via Island Records. The chart-climbing single follows the album's double-platinum smash single and #1 U.S. radio hit, "Jealous," which peaked at #7 on Billboard Hot 100.
Read More: The Voice 8 Top 12 Revealed – Instant Save Begins (PHOTOS)
In addition to his musical accomplishments, Jonas also has an active acting career that includes a lead role in "Kingdom" on DirecTV's Audience Network. The show premiered to stellar reviews last October and was recently picked up for two additional seasons. This year Jonas also earned roles in Fox's upcoming comedy-horror series "Scream Queens" and the James Franco-produced film "Goat."
As was previously announced on the show earlier this week, superstar Reba will serve as a mentor to the 12 final artists in their journey to become "The Voice."
Reba's illustrious career spans music, television, film, theater and retail. She has 35 #1 singles and more than 56 million albums sold worldwide, all garnering her a spot in the upper echelon of #1 albums in the country genre. Reba will release "Love Somebody" (Nash Icon Records) on April 14, which has already produced the biggest single sales debut of her career with "Going Out Like That." The Country Music Hall of Fame inductee has won 15 American Music Awards, 13 ACM Awards, nine People's Choice Awards, seven CMA Awards and two Grammy Awards, among others. On April 19, Reba will be honored with a prestigious 50th Anniversary Milestone Award for Most Awarded ACM Female Vocalist of the Year, earning seven trophies in the category.
Later this summer, Reba will join forces with Kix Brooks & Ronnie Dunn to launch "Reba, Brooks & Dunn: Together in Vegas," a one-of-a-kind country music residency at the Colosseum at Caesars Palace. For tour dates and more, visit Reba.com.