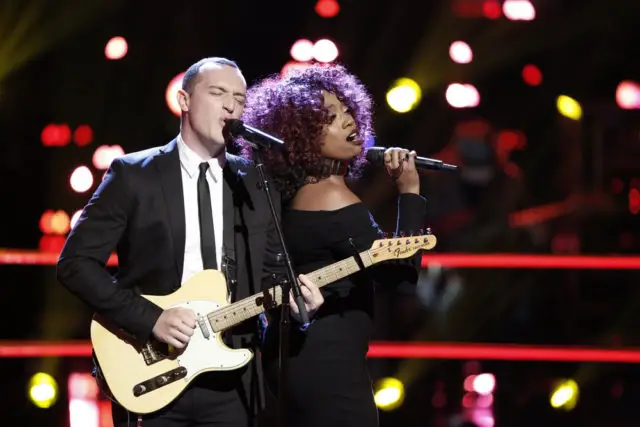 The Voice 11 Live Blog and Recap Battle Rounds 3 VIDEOS
We're LIVE BLOGGING The Voice 11 Battle Rounds 3. If you're wondering who is singing what, Click for The Voice Song Spoilers.Host Carson Daly is back to keep things moving. Celebrity advisers join the coaches including Sammy Hagar with Adam Levine, Bette Midler with Blake Shelton, Joan Jett with  Miley Cyrus and Charlie Puth with Alicia Keys.
Johnny Rez vs Nolan Neal – Team Adam – Sledgehammer by Peter Gabriel –Download from iTunes
Johnny turned his troubled life around, and now he's an IT guy. Nolan didn't get a turn after his Season 10 audition.  Adam calls the singers his two rock n' rollers. Adam advises Johnny to be "less pretty" when he sings. Sammy encourages him to "have fun with it." At the final rehearsal, Sammy is impressed by Johnny's distinct voice. He suggests Nolan not push it too hard. Adam jumps behind the drums for the final run through.
Johnny has a more distinct voice and obvious stage charisma compared to Nolan. Having said that, this is a solid duel. They are both good performers and play off of each other nicely.  Blake calls the battle "evenly matched" and he wasn't expecting that. He would go with Johnny. Alicia felt the performance had a nice "evolution." She would go with Nolan. Miley agrees with Blake. She'd go with Johnny. Oop. We'll have to wait until after the break to find out the result.  Nolan Wins the Battle. Johnny is Eliminated. Wow. I'm surprised Adam let Johnny go.
https://www.youtube.com/watch?v=aNSXE2jF0w0
Darby Walker vs Karlee Metzger – Team Miley – Brand New Key by Melanie –Download from iTunes
Darby was part of the The Voice Olympic preview. Miley paired the two together due to their respective alt/rock vibes. Neither knew this older than dirt song. In their last rehearsal, Miley coaxes Karlee out of her shell. Joan reminds Darby to breath. Miley is looking to choose the most unique singer.
The two are doing their best with a song that hasn't dated well and borders on novelty. Karlee is a talented singer, but she can't match the personality and confidence of Darby, who works the stage like she owns it. Adam calls the performance the "Mileyist thing ever." He felt Karlee was the most vocally grounded. Blake calls Darby infectious, but Karlee had the edge vocally. Alicia calls it a "tough choice." Miley quips, "I'm sweating in my clown suit." Darby Wins the Battle. Miley knows the show is called "The Voice" but performance skills are important too. Blake steals Karlee. He heard a bit of country in her voice and can't wait to work with her. 
https://www.youtube.com/watch?v=jBEmLGZYKyU
Blaine Long vs Josh Gallagher – Team Blake – Stranger in My House by Ronnie Milsap – Download from iTunes
Josh gave up baseball to pursue a music career.  Blaine is a family man scratching out a musical career. Blake specifically picked a very soulful country song. He can hear Josh on the radio right now. Blaine has never heard the song before. He feels like the underdog. As a songwriter, Blaine is not accustomed to singing covers. He needs to work on his confidence. At their final rehearsal, Bette gives Blaine a lecture about his saggy pants. "Blaine looked like an unmade bed!" she says. Bette notes Blaine seems to be afraid to unleash his masculine power. Josh is having some connection problems. He needs to dig into  the song harder.
I can't get excited about this particular song, but Blaine is the more interesting vocalist I think. He's got a powerful rasp that can't be denied. Josh is fine, but generic. I'd never pick that voice out of a line up. Alicia thinks Blaine's vocal stood out, but she also appreciated Josh's performance skills. She'd pick Blaine. Miley calls it a draw, but she chooses Josh–he's a great fit for Blake. Adam would also go with Josh because "there is more to be discovered.' Josh wins the Battle. Blaine is Eliminated. Boo I'm not agreeing with the decisions so far. Blake chose Josh because he pushed himself the hardest. As Blaine exits he snarks that he doesn't like skinny jeans. Maybe he wasn't a good fit for the show after all.
https://www.youtube.com/watch?v=VtNRwYA8X8w
Montages!
Dana Harper vs Tarra Layne – Team Blake – Alive by Sia – Download from iTunes – Dana Wins the Battle
Belle Jewell vs Halle Tomlinson – Team Alicia – Benny & the Jets by Elton John –Download from iTunes – Belle Wins the Battle – Simone Gundy vs JSoul – Team Adam – "You're All I Need to Get By" – Simone wins the Battle 
https://www.youtube.com/watch?v=m2W5C20rt6M
Josh Halverson vs Kylie Rothfield – Team Alicia – House of the Rising Sun –Download from iTunes
Josh grew up on a cattle farm. Kylie attended Berklee School of Music in Boston and suffered a vocal hemorrhage. She's just getting back to singing.  Kylie and Charlie knew each other at school. Both contestants play guitar. That's why Alicia paired them up. Charlie compliments their unison singing. Charlie suggests an a cappella moment, which everyone agrees works beautifully. Kylie's vocal injury has left her afraid of belting high notes. Abandoning oneself to the song is more important than vocal perfection, says Alicia. At the final rehearsal, Alicia gushes that the hair on her skin stood up.
Josh pronounces house "housh." His phrasing is distractedly affected. Josh also has eyes like a serial killer. Yikes. Kylie seems a little nervous, although she is pretty fierce with that electric guitar.  Total Bonnie Raitt vibes.  Miley chooses Josh, although Kyle was powerful. Adam calls Josh alluring. He'd pick Kylie, though. Blake thinks the faces Josh pulled would be good for a gunfight. Adam was a little scared. Blake would go with Kylie. And Kylie Wins the Battle. Yay.  Josh scared me too. Miley pushes her button with her face! Miley Steals Josh.  Miley is all about uniqueness and diversity, she says. And serial killers perhaps?
https://www.youtube.com/watch?v=t4jer6G-Pbo
Christian Fermin & Gabe Broussard – Team Blake – The Reason by Hoobastank –Download from iTunes
Christian's family emigrated to America from the Phillipines. He learned to sing in church. Gabe is only 15 and plays around town with his band. Blake picked the song that would show off his tone. Bette advises the singers to relax on the high notes. Blake says Christian is so effortless, but he needs to find a way to sing with desperation. Bette thinks Gabe should nail notes instead of scooping. In the final rehearsal, Bette tells them to put the lyrics and microphone stands away. Open your eyes and connect to the audience, she says.
Both singers are young and green and not really able to deliver the song with the power and emotion rock ballads demand.  I prefer Gabe's sweet yet sturdy tone, so I'd give him the win. Alicia hears richness in Gabe's voice and she likes Christian's riffs, but she'd choose Gabe. A favorite song of Miley's dad, she imitates his voice as she relates a story about the song prompting him to purchase an iPod. The coaches keep yammering about Gabe's age. They all seem to prefer him. Gabe wins the Battle. Christian is Eliminated.  Gabe is thinking he might throw some runs into his performance. NO DON'T DO THAT. I don't think Blake was about to eliminate the youngest singer on his team. The show will get a lot of (annoying) milage out of "I can't believe you're 15!"
https://www.youtube.com/watch?v=QW3xB4PPlPI
Aaron Gibson vs Sa'Rayah – Team Miley – I'll Take Care of You by Beth Hart (originally by Bobby Bland) –Download from iTunes
Sa'Rayah grew up in the Chicago projects and is a single mother. Aaron comes from a military family.  Neither singer really knows the song Miley chose and Miley herself only seems familiar with the Beth Hart cover.  Joan notes that Aaron is reserved, but has personality. She thinks Sa'rayah's riffs may be too much. "Just because you can sing 5 octaves doesn't mean you should," she says. In the final rehearsal, Aaron playes his guitar. Joan wants to hear his raspy voice infused with pain.
Aaron is like a more soulful Phillip Phillips. As duets go, this is pretty hot. Aaron barely moves a muscle as he sings, yet his presence is huge. Sa'Rayah is like a slinky rock goddess belting out notes effortlessly. There better be a steal, yo. "What the hell was that?"says Adam. He'd pick Aaron. Blake thinks Sa'Rayah was born to sing the song. He would pick her. Alicia is proud of them both. Aaron wins the Battle. Miley feels he needs her guidance more. And at the last minute, Blake AND Alicia Steal Sa'Rayah.  "I just felt you," says Alicia. "You created a beautiful moment." Blake is toast. Sa'Rayah Chooses Alicia.
https://www.youtube.com/watch?v=i0vUaZ05pNg
Advanced to the Knockouts
Nolan Neal from Team Adam
Darby Walker from Team Miley
Karlee Metzger stolen from Team Miley by Team Blake
Josh Gallagher from Team Blake
Dana Harper from Team Blake
Belle Jewel from Team Alicia
Simone Gundy from Team Adam
Kylie Rothfield from Team Alicia
Josh Halverson stolen from Team Alicia by Team Miley
Gabe Broussard from Team Blake
Aaron Gibson from Team Miley
Sa'rayah stolen from Team Miley by Team Alicia
Eliminated
Johnny Rez from Team Adam
Blaine Long from Team Blake
Tarra Layne from Team Blake
Halle Tomlinson from Team Alicia
JSoul from Team Adam
Christian Fermin from Team Blake
Tomorrow: It's the FINAL BATTLES.