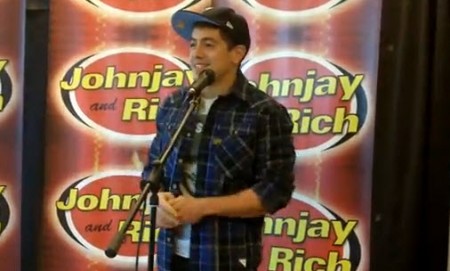 Ha ha ha ha. Stefano Langone lets it totally out of the bag that he and Pia Toscano were "close" during the Season 10 competition in this interview with the Johnjay and Rich radio show.
No joke, he TOTALLY USED AIR QUOTES around the word "close" when describing his relationship to Pia at the time she was eliminated.  You might remember (or not!) that they were in the bottom 2 together.
"Did you get dumped for Mark Ballas?" the DJ asks. "I guess…right?" says Stefano. "It is what it is." These days, rumor has it that Stefano is dating another season 10 alum, Haley Reinhart.
He also claims, that because the Season 9 tour TOTALLY tanked, the Season 10 Top 10 suffered a severe pay cut. The irony is that the Season 10 tour actually did pretty well. Poor kids. And they worked so hard!