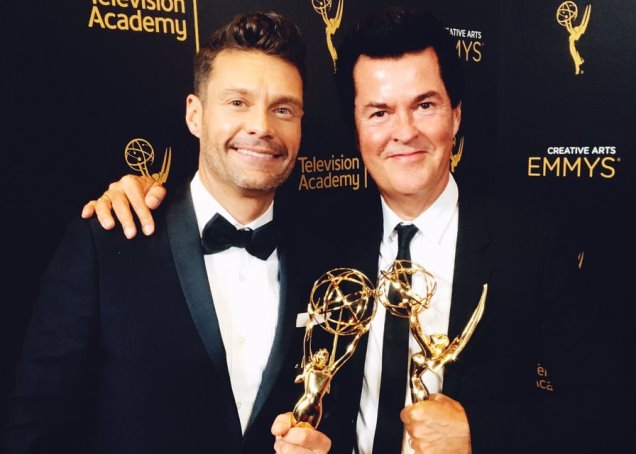 According to Variety, Ryan Seacrest is in talks to host American Idol, although sources disagree on how far the talks have gotten:
According to an insider, final tweaks are being hammered out on a new contract for the multihyphenate, who recently joined Kelly Ripa as cohost of ABC's long-running morning show, the newly named "Live with Kelly and Ryan." Stakeholders in "Idol," which include FremantleMedia and CORE Media Group, are hoping to nail down a look that's "authentic and most like the original."

But another source close to Seacrest downplays the progress, noting that "conversations with producers about his potential involvement are in the early stages" and "there is a lot to work through given his other priorities and commitments." Namely: to "Live" and his daily iHeartRadio syndicated program "On Air With Ryan Seacrest," but also hosting and producing duties for E! and ABC's "Dick Clark's Rockin' New Year's Eve with Ryan Seacrest." That said, adds the insider: "Ryan has a lot of affection for 'American Idol' given the show's significance to his career, and it taps into the things he loves — a live show, pop music, and discovering new talent."
Also, Variety "reached out" to American Idol creator Simon Fuller, who is no longer involved with the show, and he said about Seacrest, "There would be no 'American Idol' without Ryan Seacrest." He declined to comment further.
Read More:
American Idol Hopes to Roll Out Judges Panel at ABC Upfronts
Kelly Clarkson Already Preparing to be American Idol Judge
ABC's American Idol to Audition at Disney World
It's OFFICIAL! American Idol Reboot Coming to ABC!
Also–and it surprises me a little–ABC has committed to broadcasting about 40 hours of Idol for the next season. That complicates bringing Seacrest back to the fold as he works five mornings a week in New York City co-hosting Live with Kelly and Ryan. Previous reports said Idol would air on Sunday nights. If it airs on Monday as well how would it be scheduled around Dancing with the Stars twice season Monday night cycle? And would ABC even CONSIDER airing against The Voice on NBC? They wouldn't would they?
One solution would be to use Dancing with the Stars as a lead in to a 10 pm episode of Idol on Mondays. Although, that is a late hour to air a family friendly reality show. Also, it's possible that Idol could kick off as a twice a week show before cutting back to once a week, as it did during later seasons on FOX.
People. I HAVE SO MANY QUESTIONS…