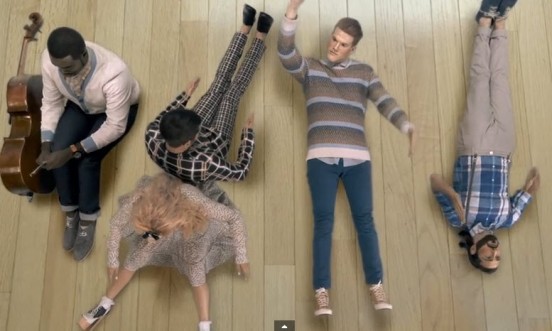 In the surreal new music video from Pentatonix, the quintet covers the 2013 song, "Papaoutai" from the Belgian singer, Stromae.
The song, performed in the original French, features fellow YouTube sensation, violinist, Lindsey Stirling and stars the six performers as dolls come to live in a little boy's bedroom. The makeup and movements mimic marionettes, or wind-up dolls. It freaked me out a little! But the song is terrific.
Check out the original video, in which the child's father is represented by a lifeless mannequin. Reportedly, Stromae's father was killed in the 1994 Rwandan Genocide. The title translates literally into "Father, where are you?" and is about a childhood spent without his dad.
Pentatonix feat Lindsey Stirling – Papaoutai Music Video
The Sing Off winners appeared on GMA this morning to perform a live version of Ariana Grande's "Problem," another song from the a cappella singers'  latest album, PTX VOL.3 (Download from iTunes)
Pentatonix – Problem – GMA