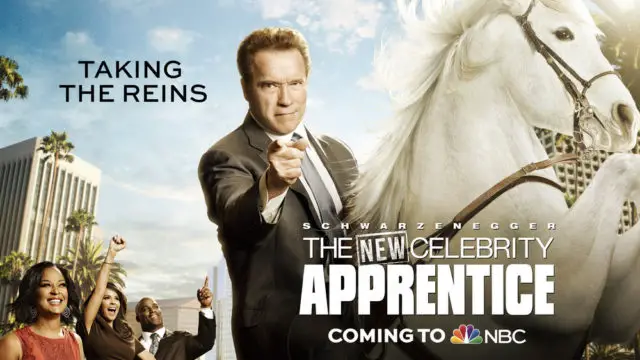 NBC announced the network's 2016-2017 schedule ahead of tomorrow's upfront presentation to advertisers in New York City. Highlights include The Voice 11 featuring Adam Levine, Blake Shelton and new coaches Miley Cyrus and Alicia Keys. Live productions of the musical Hairspray (Jennifer Hudson, Derek Hough) and A Few Good Men. Plus, an all new Celebrity Apprentice featuring Arnold Schwarzenegger, to premiere later in the season.
Check out details from the NBC press release plus the full fall schedule below. Also, enjoy new Celebrity Apprentice Key Art!
Drama highlights on the newly announced fall schedule include This Is Us, an emotional and provocative series from Dan Fogelman ("Crazy, Stupid, Love.") where seemingly disparate people's lives intersect in the most curious ways; and Timeless, from Eric Kripke ("Revolution") and Shawn Ryan ("The Shield"), which features a scientist, soldier and history professor who must change the past while trying to capture a dangerous fugitive.
Ambitious new dramas that launch in midseason include Taken, which will air at 10 p.m. Mondays in the prime post-"Voice" timeslot following the run of the network's new fall drama "Timeless." "Taken" follows former Green Beret Bryan Mills (Clive Standen, "Vikings") as he deals with a personal tragedy that shakes his world.
Other midseason dramas include Chicago Justice, the fourth installment of the hugely successful "Chicago" franchise, with stars Philip Winchester and Carl Weathers; Emerald City, a complete reimagination of The Wizard of Oz set in a mystical land of dark magic, lethal warriors and a bloody battle for supremacy; The Blacklist: Redemption, which follows undercover operative Tom Keen (Ryan Eggold) as he joins forces with the cunning Susan "Scottie" Hargrave (Famke Janssen) to take on the most dangerous assignment of his life; and Midnight, Texas, based on the hit book series from author Charlaine Harris ("True Blood"), about the vampires, witches, psychics and hit men who inhabit this small town.
On the comedy side, this fall Emmy Award winner Mike Schur returns to NBC with The Good Place, starring Kristen Bell and Ted Danson, about an ordinary woman who mistakenly finds herself in the afterlife. Midseason will bring more smart new comedies to the schedule, including the Tina Fey- and Robert Carlock-produced Great News, from Emmy Award-winning writer Tracey Wigfield, about a young TV producer who finds out her mom (Andrea Martin) has accepted an internship at her workplace; Powerless which is set in the DC Comics universe and stars Vanessa Hudgens as a "heroic" insurance adjuster specializing in coverage against damage caused by the crime-fighting superheroes; Trial & Error, a mockumentary following a bright-eyed New York lawyer who arrives in a quirky small Southern town to defend a professor (Emmy Award winner John Lithgow) accused of murdering his wife; and Marlon, loosely inspired by the real life of Marlon Wayans, an update on the classic family comedy about a father committed to co-parenting his two kids with his very-together ex-wife.
Rounding out NBC's robust schedule are big unpredictable, unscripted series such as The Wall, from executive producer LeBron James and hosted by Chris Hardwick, where the game centers on a colossal 40-foot wall and involves quick thinking, shrewd strategy and a little luck with giant swings of fortune and millions of dollars changing on every ball; Better Late Than Never, which will air following NBC's Rio Olympics coverage in late summer, follows cultural icons Henry Winkler, William Shatner, Terry Bradshaw and George Foreman on their greatest adventure yet — the journey of a lifetime traveling across Asia; and the Ellen DeGeneres-produced and Drew Barrymore-narrated First Dates, where viewers can experience a couple's first date: the promise of potential love when it goes well and the hilariously awkward moments if it crashes and burns.
And, of course, one of the most anticipated shows of the new season is the return of NBC's The New Celebrity Apprentice with twice-elected governor and international movie superstar Arnold Schwarzenegger taking control of the boardroom. In its eighth season, "The New Celebrity Apprentice" moves to Los Angeles where 16 celebrities will compete for their favorite charities. Among those serving as advisors will be investment guru Warren Buffett; former Microsoft CEO and Los Angeles Clippers owner Steve Ballmer; Tyra Banks, a supermodel, actress, TV host, producer, accomplished businesswoman and CEO of the Tyra Banks Company and cosmetics brand, TYRA Beauty; actress, author and entrepreneur Jessica Alba, the founder and chief creative officer of The Honest Company and Honest Beauty; and Schwarzenegger's trusted confidante and nephew, prominent entertainment attorney Patrick Knapp Schwarzenegger.
Continuing NBC's emphasis on event programming, the 2016-17 season will feature one-time-only special events, including Dolly Parton's Christmas of Many Colors: Circle of Love, the sequel to the 2015 holiday hit Dolly Parton's Coat of Many Colors; Hairspray Live!, starring Harvey Fierstein, Jennifer Hudson, Martin Short and Derek Hough; and Aaron's Sorkin's A Few Good Men Live!, which will mark NBC's first live drama since the network began reinvigorating live programming in 2013.
Returning shows for the 2016-17 season include The Blacklist, Blindspot, Chicago Fire, Chicago Med, Chicago P.D., Grimm, Hollywood Game Night, Law & Order: SVU, Little Big Shots, Shades of Blue, Superstore and The Voice.
NBC FALL 2016-17 SCHEDULE
MONDAY
8-10 P.M. — "The Voice"
10-11 P.M. — "TIMELESS"
TUESDAY
8-9 P.M. — "The Voice"
9-10 P.M. — "THIS IS US"
10-11 P.M. — "Chicago Fire"
WEDNESDAY
8-9 P.M. — "Blindspot"
9-10 P.M. — "Law & Order: SVU"
10-11 P.M. — "Chicago P.D."
THURSDAY
8-8:30 P.M. — "Superstore"
8:30-9 P.M. — "THE GOOD PLACE"
9-10 P.M. — "Chicago Med"
10-11 P.M. — "The Blacklist"
FRIDAY
8-9 P.M. — "Caught on Camera with Nick Cannon"
9-10 P.M. — "Grimm"
10-11 P.M. — "Dateline NBC"
SATURDAY
8-10 P.M. — "Saturday Dateline Mysteries"
10-11 P.M. — "Saturday Night Live (encores)"
SUNDAY
7-8:20 P.M. — "Football Night in America"
8:20-11 P.M. — "NBC's Sunday Night Football"