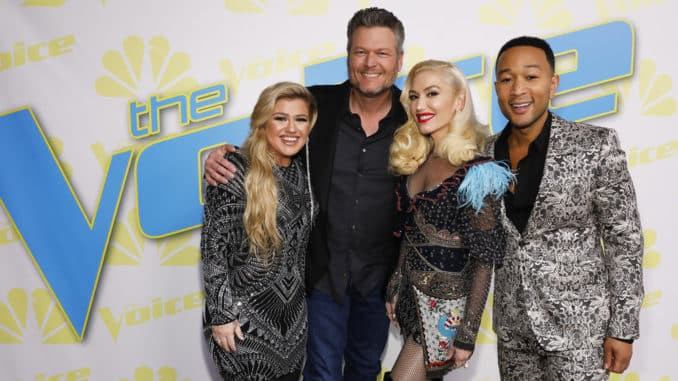 NBC has finally released its fall 2020 schedule. The Voice is on the fall schedule with returning coaches Kelly Clarkson, John Legend and Blake Shelton. One season coach Nick Jonas is OUT. Veteran coach Gwen Stefani returns! In addition, The Voice Tuesday edition is back.
Gwen previously coached The Voice seasons 7, 9, 12, and 17. The singer also served as a mentor on seasons 8 and 10.
No word yet on how production will proceed or when it will start. More will be revealed!
NBC 2020-2021 schedule details:
MONDAY: Returning Coaches Kelly Clarkson, John Legend, Blake Shelton and Gwen Stefani and Host Carson Daly Reunite for Perennial Juggernaut "The Voice," Followed by the Fall Return of Hit Mystery Drama "Manifest" at 10 P.M.
TUESDAY: Dynamic Tuesday Lineup Stays Strong With "The Voice" Setting the Stage for the Fifth Season of TV's #1 Drama "This Is Us," Leading Into Timeslot Winner "New Amsterdam" at 10 P.M.
WEDNESDAY: Following Another Total Viewers Win, the Windy City Block Returns to Conquer Wednesday Nights Starting With "Chicago Med" at 8 P.M., Followed by Wednesday's Most-Watched Series "Chicago Fire" and Concluding with "Chicago P.D."
THURSDAY: Fan Favorite Comedies "Superstore" and "Brooklyn Nine-Nine" Anchor Thursday Nights; Drama Starts at 9 P.M. as "Law & Order: SVU" Marks its Record 22nd Season, Leading into the Much-Anticipated Return of Det. Stabler in the All-New "Law & Order: Organized Crime"
FRIDAY: "The Blacklist" Returns for its Eighth Season at 8 P.M. Followed by Two Hours of Friday's #1 Newsmagazine, "Dateline NBC"
SUNDAY: #1 Primetime Television Show for a Record Nine Consecutive Years, "Sunday Night Football" Will Broadcast 19 Games Throughout the NFL Season
MIDSEASON/SUMMER: Momentum Continues with Huge New and Returning Series, Including Tina Fey and Robert Carlock's "Mr. Mayor," Starring Ted Danson and Holly Hunter; "Kenan," starring Kenan Thompson; and "Young Rock" from Showrunner Nahnatchka Khan and Producer/Star Dwayne Johnson; Fan Favorites "Good Girls" and "Zoey's Extraordinary Playlist" Return; Uproarious Hit "Ellen's Game of Games" Is Set to Continue the Fun; Jimmy Fallon Rocks Into Primetime as Host of Musical Game Show "That's My Jam"; the Stars Align with "True Story," hosted by Ed Helms and Randall Park, and Game Show "Small Fortune" brings big prizes to primetime.
Returning shows for the 2020-21 schedule include "The Blacklist," "Brooklyn Nine-Nine," "Chicago Fire," "Chicago Med," "Chicago P.D.," "Dateline NBC," "Ellen's Game of Games," "Good Girls," "Law & Order: SVU," "Making It," "Manifest," "NBC Sunday Night Football," "New Amsterdam," "Superstore," "This Is Us," "The Voice" and "Zoey's Extraordinary Playlist."
Additional previously announced new series include "Kenan," "Mr. Mayor," "Small Fortune," "That's My Jam" "Transplant," "True Story," "Who Do You Think You Are?," and "Young Rock."
NBC FALL SCHEDULE 2020*
(New programs in UPPER CASE; all times ET)
*Indicates new episodes available on Peacock
MONDAY
8-10 P.M. — The Voice
10-11 P.M. — Manifest*
TUESDAY
8-9 P.M. — The Voice
9-10 P.M. — This Is Us*
10-11 P.M. — New Amsterdam*
WEDNESDAY
8-9 P.M. — Chicago Med*
9-10 P.M. — Chicago Fire*
10-11 P.M. — Chicago P.D.*
THURSDAY
8-8:30 P.M. — Superstore*
8:30-9 P.M. — Brooklyn Nine-Nine
9-10 P.M. — Law & Order: SVU*
10-11 P.M. — LAW & ORDER: ORGANIZED CRIME*
FRIDAY
8-9 P.M. – The Blacklist*
9-11 P.M — Dateline NBC*
SATURDAY
8-10 P.M. — Dateline Saturday Night Mystery*
10-11 P.M. – Saturday Night Live* (encores)
SUNDAY
7-8:20 P.M. — Football Night in America
8:20-11 P.M. — NBC Sunday Night Football