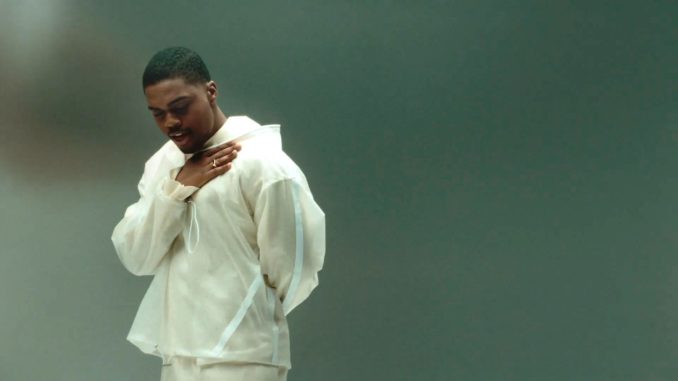 One of the biggest surprises of the current American Idol season was the news that judge Katy Perry's Unsub Records signed Season 16 finalist Michael J. Woodard. The singer's profile has been on the rise lately. He stars in the Netflix animated musical Arlo the Alligator, about a half boy/half alligator who goes off to New York City in search of his father, and makes many friends along the way. And now, he's releasing music on a major label (Unsub is a Capitol Records imprint).
"HYPED to announce the 3rd signing to @unsubrecords @MICHAELJWOODARD," Katy wrote on Twitter, while announcing Michael's signing. "I've melted over his voice since the 1st season of @AmericanIdol & am so honored to help nurture n mentor his artist journey."
Michael's first single for Unsub, "why you texting me?" was written by fellow label mate Ferras in addition to Jessica Kaprov and Stuart Crichton, who also produced the track.
The atmospheric tune has Michael questioning a former lover about why they are texting him: "Why you texting me?/I ain't what you need/you don't let me sleep/drowning in between us/and, what we used to be"
He knows nothing good can come from texting, but still he can't resist.
"Nothing keeping us together/cuz when it feels that good no way that it could last forever/forget I knew you/but I could never/Damn, I wish I could, but don't nobody love me better"
"why you texting me" is out now and available on all streaming and downloading services. The release is accompanied by a new music video, directed by Loris Russier.
Watch Michael J. Woodard's "why you texting me" music video
Last Sunday (May 16) Michael appeared on the American Idol Semi-final to hype his new single. The young singer explained that after Katy signed him, he went straight into the studio and "made over 130 songs." Katy gushed over her new artist. "I'm so proud of him!" she said, "He's totally turned into an artist-slash-songwriter. He goes to the studio every single day, writes writes writes. It's been…an artist development period, but "why you texting me"…is going to be big."