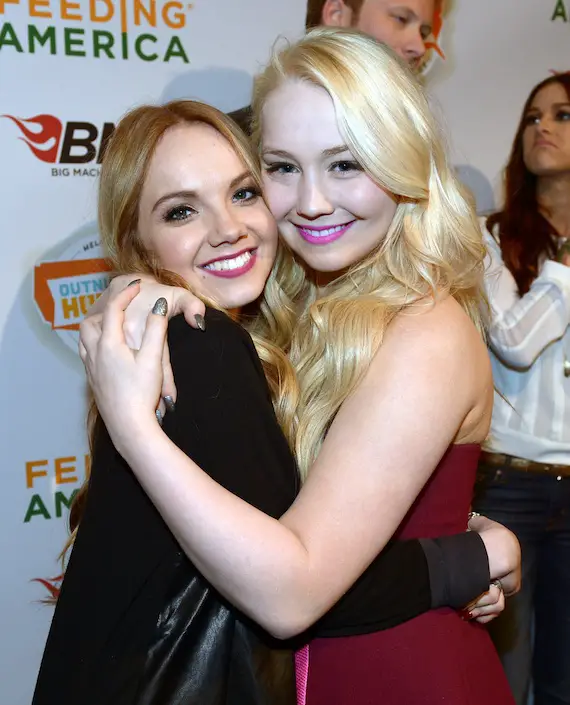 Welcome to CMT's Next Women Of Country's CMA Fest event, with performances by rising stars Angaleena Presley, Cam, Danielle Bradbery, Kelsea Ballerini, and RaeLynn, hosted by CMT Senior VP of Music Strategy Leslie Fram. Check out a live stream of the event below, and join us for a live blog. Please weigh in with your comments too!
********************* LIVE BLOG *************************
As we wait for the event to begin, the stream is playing women back-to-back-to-back-to-back, including Ashley Monroe, Kelleigh Bannen, Sara Evans, Kitty Wells, and Kacey Musgraves. And somehow, I'm still listening!
Leslie Fram introduces RaeLynn, noting that "God Made Girls" peaked at #7 on the hybrid Billboard Hot Country Songs chart and sold over 500k copies. RaeLynn will be performing her current single "For A Boy" (which RaeLynn cowrote with Laura Veltz) on I Didn't Do It on the Disney Channel on 6/21. And she kicks off the event with that song, backed by a guy playing acoustic guitar and singing background vocals. The song has been out since March, and made it to #58 on the Billboard Country Airplay chart, but dropped off and has been struggling to rechart. Unlike last night, RaeLynn has the opportunity to sing a full song, and she fares well in an acoustic setting.
Next up is Angaleena Presley, who Leslie Fram introduces with a bunch of testimonials from major media publications. She's going to be touring the UK soon. Angaleena jokes about being the lone brunette in a sea of "beautiful blonde babes," and thanks the crowd for supporting the tradition of women in country before launching into a self-penned song inspired by a conversation with her father, "American Middle Class." That's the title track of her critically acclaimed album released last September (I highly recommend checking it out if you're interested in bracing, frank narratives about the daily struggles of small town life). I love the dark melody of this song, and the bitter, determined lyric.
Now it's Danielle Bradbery's turn! She'll be the lone female on CMT's fall tour (co-headlined by Brett Eldredge and Thomas Rhett), and her introduction makes mention of her Voice win and her affiliations with Skechers and General Mills/the Outnumber Hunger (via Big Machine). She expresses her gratitude for the opportunity to be a part of this event, and introduces her debut single, "The Heart Of Dixie," cowritten by Brett James, Caitlyn Smith, and Troy Verges. This is a slower, acoustic arrangement that allows Danielle to dig into the story way more than the studio version (recorded shortly after her Voice win) did – it really shows her growth. And she's singing beautifully.
New Arista Nashville act Cam is up next, and her introduction is focused on what's happened this week. She played a verse and a chorus of a song called "Burning House" on the Bobby Bones Show, and it shot up on Itunes. As of this morning, after another Bobby Bones Show spin, "Burning House" is #8 ITunes country, #31 Itunes all genre, while her EP is #4 Itunes country, #14 Itunes all genre. Sony Nashville saw the reaction and made it her new single, which leads Cam to talk about the audience's power to change things. She then tells the back story of the song, which was spawned by an on-again, off-again relationship that she had ended on bad terms. A year later, she was going to have the opportunity to meet her ex and hoped to make things right, and she had a really vivid dream about it going horribly wrong. So she wrote "Burning House," a gorgeous, pensive ballad, with Jeff Bhaskar and Tyler Johnson. Kelsea Ballerini provides background vocals, and gushes about the song.
And it's her turn next! Kelsea Ballerini had the most success penetrating radio of this group so far, with her debut single "Love Me Like You Mean It" t5 at country radio. She has the endorsement of Taylor Swift, whose early poppy stylings are a clear influence. She starts with "Peter Pan," which riffs on a "lost boy" who's "never gonna grow up." It's a pretty, earnest ballad cowritten by Kelsea, Jesse Lee, and Forest Whitehead.
Now for a round of questions. The 1st question is what inspired them to become artists/songwriters. RaeLynn came from a musical family, but was really inspired by the video of Miranda Lambert's debut single "Me & Charlie Talking." Miranda is a huge supporter. For Angaleena, the inspiration was Loretta Lynn, who's from her hometown, particularly the way Lynn talks honestly about things people weren't "supposed to talk about." Danielle also came from a musical family and would sing Carrie Underwood and Miranda Lambert in her room. But she also inherited her father's shyness, so it took The Voice to push her onto the stage. Cam grew up singing but wound up doing "emotions research" for a psychology professor, who helped her see that she needed to take the gamble and try to do music full-time. Kelsea grew up wanting to be a veterinarian, though she was in glee club and a church leader, but her parents' split got her writing a song, and within a few years, she had moved to Nashville to pursue music.
Next question: The biggest challenge being an artist.
RaeLynn had to miss the wedding of a cousin who is like a sister to her. It was the crowd who picked her up when she was feeling down. Angaleena Presley says being an artist is 90% elbow grease and 10% glitter/rhinestones. She agrees with RaeLynn that the big challenge is what you miss. Danielle thirds that. Cam says it's a challenge to find time to be creative, and another challenge is that feeling that you'd love to get to a point where the path ahead gets clearer, but that map that lays out the rest just never comes. Kelsea talks about the challenge of finding time to be a person as opposed to be a performer.
Next question: Vince Gill talked about the tragedy of today's country radio shutting out so many women when the women are making the most compelling music. #SaladGate is mentioned. So the question is: were they aware of the challenges of being a woman and getting played by country radio when they got started?
RaeLynn says she just wants to make music and is going to work to the point that no just isn't the answer any more. Angaleena considers herself a melon, because tomatoes are really small. LOL! She said that getting signed as an act with titles like "Knocked Up" and "Pain Pills" was tough, and credits the exposure she got via 2 albums with The Pistol Annies as the catalyst to finally get her own record out. Danielle talks about how she's learned the importance of being unique. Cam had a publishing deal offer, not a deal to be an artist, and was told it was too hard to be an artist. She was well aware of how hard it is for a female, but thinks it's a blessing in disguise because it means the women can't get by being mediocre. Kelsea was also told how hard it is to be a female act, but she believes women have always been a staple in the genre, citing Faith Hill, Shania and Taylor Swift. Leslie Fram notes that one of the great things about events like this is the camaraderie and support between the women.
Now it's time for more music. RaeLynn talks about how great it's been to participate in this – she got to catch up with several ladies she admires, and she got to meet Cam and see how great she is. RaeLynn then introduces a song that changed her life, her debut single, "God Made Girls," which she cowrote with Nicolle Galyon, Lori McKenna, and Liz Rose.
When it's Angaleena's turn, she thanks Leslie Fram for playing her video for "Pain Pills," and for her work to advance the cause of women in Nashville. To introduce her song, Angaleena tells a true story about how she was on a long drive on a mountain and suddenly discovered that her muffler was hanging from car. Cell phones don't work where she was. But a savvy women that she is, she used a guitar string to reattach the muffler, and drove on. The song inspired by this, the self-penned "Lemon Drop," is the song that put Angaleena on Miranda Lambert and Ashley Monroe's radar. Check out the hook: "My life is like a lemon drop, I'm sucking on the bitter to get to the sweet part."
Danielle talks about how great it's been to just listen today, and introduces a song that's stuck with her from her debut, even though it never became a single. She launches into "Never Like This," cowritten by Steve McEwan, Gordie Sampson, Caitlyn Smith. Cam marvels how such a big voice comes out of such a tiny person, and the panel all affectionately admires/ribs Danielle about her big, beautiful vocals.
Cam adds her thanks to Leslie Fram and CMT, and introduces her debut single "My Mistake," which deserved way better at country radio. She started writing it when she knew a relationship was ending and she was bummed. She wrote the chorus, and ended up tagging it with "He's my mistake to make all night" as an ode to owning our mistakes instead of moaning about what a waste they were. She cowrote it with Jeff Bhaskar and Tyler Johnson.
Kelsea plays a bit of Rihanna's "Take A Bow," saying she was hanging out and eating pizza with a bunch of guy friends when they heard that song and talked about her "swag." That inspired her current hit single, "Love Me Like You Mean It," which is her next song. It's a very Luke Bryan-ish melody, from the point of view of a lady who knows what she wants from her guy and isn't afraid to make it known. You can see where this might appeal to listeners fed a steady diet of little other than bro country over the past few years, but it's still an accomplishment that she's made t5 at country radio as a newbie female on an indie label that had not previously scored a t10 hit. She cowrote the song with Lance Carpenter, Josh Kerr, and Forest Whitehead.
And that's a wrap! A really enjoyable event that showcased the best of the 5 women who represent a pretty wide range of country sounds and points of view. Thanks for joining for the live blog! I'll update this if the live stream gets archived.