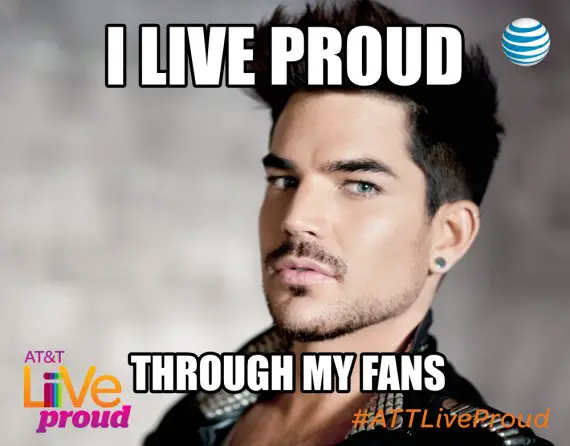 Once again, in celebration of LGBT Pride Month and Pride season, Adam Lambert is teaming up with AT&T for the second annual "Live Proud" campaign.  On Saturday, June 14, hang out with Adam on Google where he'll talk about the importance of the campaign, his upcoming tour with Queen, forthcoming album and more!
Check out all the details below on how you can participate in the Live Proud campaign and tomorrow's Google Hangout with Adam. Enter for a chance to win a VIP experience with Adam at an intimate NYC event.
From June 2 through August 10, you can take part in the AT&T Live Proud campaign in the following ways:
"Like" the AT&T Live Proud Facebook page by visiting att.com/liveproud.
Submit a unique meme that represents an AT&T "Live Proud" moment.
Share your unique meme via Facebook and/or Twitter tagging @ATT or @adamlambert and including #ATTLiveProud to help spread awareness surrounding the campaign and to enter for a chance to win a VIP experience with Adam Lambert. (Go to att.com/liveproud for official rules and to enter)*
To celebrate the recent launch of Live Proud 2014, Adam and AT&T are teaming up to host a Google Hangout on Air this Saturday, June 14th at 1pm (PST). Tune in at this link to join the conversation and listen to Adam speak on the importance of empowering the LGBT community by creating a "Live Proud" meme, which could score you the chance to meet him during a private event in New York! #attliveproud
From Adam's guest blog:
Today, too many LGBT individuals don't feel they have a voice, and this program gives them one. The LGBT community and beyond can take part in this campaign by creating unique "Live Proud" memes and sharing them on their social media channels.
Among the memes submitted and shared via Facebook and/or Twitter, four lucky winners will be chosen at random and invited to a special meet and greet at a private event with me in New York City. One lucky "Grand Prize" winner will be selected to attend the meet and greet and private event, in addition to spending one-on-one time with me prior to the event. An additional five winners will receive an AT&T technology prize package.
For me, I choose to "Live Proud" through my fans and my music. By creating personal and empowering music that my fans can relate to, I aim to inspire and motivate them every day.
I'm excited to be a part of this great movement that showcases AT&T's commitment to enriching and strengthening the lives of LGBT individuals everywhere. No matter what you believe in or what you identify as, this campaign gives you the opportunity to be loud and proud about who you are.
So let's get to it! Let's ensure our voices are heard and we make this Pride season the most memorable one yet. I can't wait to meet the finalists – which could be you – at my private event in New York City. Create those memes and I'll see you there!