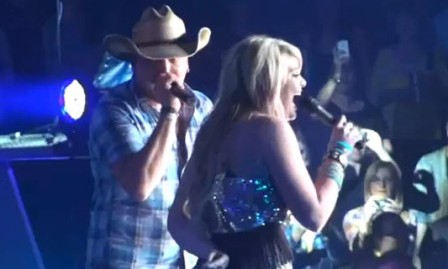 While Kelly Clarkson is on the road performing "Don't You Wanna Stay" with a giant skeery hologram of Jason Aldean singing his part of the duet.  Jason is enlisting the help of his opening act–American Idol 10 runner-up, Lauren Alaina–to sing Kelly's part.
Lauren's got some mighty big shoes to step into, but she does an admirable job of playing Kelly on the road with Jason.
Watch their "Don't You Wanna Stay" duet below in HD.
Bonus: A special cameo from Drunk Redneck Girl! She's shut off.