American Idol returns tonight with a 2 hour audition episode in Charlotte NC. We'll be live blogging, of course!
Carrie Underwood's "Two Black Cadillacs" music video debut on Entertainment Tonight. It will be release on VEVO a bit later.
'American Idol' Season 12: Experts Break Down Nicki And Mariah's First Week – I AM AFRAID TO LOOK. Ha. – "I thought it was really entertaining for the most part," said longtime "Idol" blogger MJ Santilli. "Nicki Minaj is the breakout star of the season. I'm just a little worried that the bickering between her and Mariah might get a little old." Santilli said Minaj grabbed the spotlight because she clearly understands that her job is to judge and entertain. In addition to being quirky and witty, MJ praised Minaj's ability to be tough, but let down contestants without hurting their feelings. – More at MTV.com
Rock Hall of Fame: Jennifer Hudson, John Mayer, And Christina Aguilera To Perform – LOS ANGELES — John Mayer, Christina Aguilera and Jennifer Hudson are among the stars set to perform at the Rock and Roll Hall of Fame induction. Mayer will perform in honor of Albert King with Gary Clark Jr., then induct the late bluesman. Aguilera and Hudson will salute Donna Summer. Foo Fighters Dave Grohl and Taylor Hawkins will induct Rush and hall of fame member Don Henley will induct Randy Newman at the April 18 ceremony in Los Angeles. – Read more at Huffington Post
Adele to Perform at the Oscars! – The producers of the Academy Awards announced today that immensely popular English singer Adele will perform her song "Skyfall" from the soundtrack of the most recent James Bond film. "It's an honour to be nominated and terrifyingly wonderful to be singing in front of people who have captured my imagination over and over again," Adele said in a press release. "It's something I've never experienced and probably only ever will once!" – Read more at ET Online
Short and sweet! Carrie Underwood is a dream in tangerine as she complements her golden tan in a silky shirt and miniskirt – All year round it seems that she has a permanent gorgeous golden tan. And Carrie Underwood complemented her stunning skin tone as she attended the Nashville Grammy Nominee Party on Tuesday night. The 29-year-old country music star looked a dream in a tangerine and navy ensemble for the bash which was held at the Loews Vanderbilt Hotel. – Read more at Daily Mail
Nashville's Grammy nominees gather to celebrate – Carrie Underwood was among the stars looking forward to attending next month's show — not only as a nominee, but a recently announced performer, and hinted that she has "a little something special planned." She's also happy that her hit "Blown Away" was the one that earned her and songwriters Chris Tompkins and Josh Kear recognition. "It was such an epic song, that it just made sense to name my album (after it.)" – See the video at Tennessean.com
Kelly Clarkson Stuffed Mushrooms …Key To Singing LIVE – Wanna know the secret to Kelly Clarkson's sensational LIVE performance of "My Country, 'Tis of Thee" at the Presidential Inauguration? Two words … STUFFED MUSHROOMS. That's right, the night before Kelly rocked the National Mall in front of more than 800,000 people … she and a few friends carbo-loaded at Buca di Beppo in D.C. — and as everyone knows by now, it clearly paid off. We're told Kelly and co. feasted on lasagna, bruschetta, stuffed mushrooms, half-pound meatballs, spaghetti, chicken parmigiana — and the always delicious colossal brownie …all for a cool $230. – Read more at TMZ
Colton Dixon: A 'Messenger' Of Positive Music – "I am who I am and I'm not ashamed of that. But, of course, there are people pulling you [in] different directions and wanting you to do one thing but it wouldn't make sense to you to do that. I just wanna put out positive music. The truth of the matter is, we all need to hear it; not just my music, but something positive, especially here in America with [all] the dark things that [have] happened in the last three months," he told Bulletin Entertainment in a recent phone interview, apparently referencing the heartbreaking incidences of violence that stunned the powerful nation. – Read more at MB.com
Photo Flash: Katharine McPhee Channels Co-Star Anjelica Huston in Photoshoot – In a recent photoshoot with 7Hollywood, SMASH actress Katharine McPhee donned a neo-noir look to pay homage to her co-star Anjelica Huston. Check out the stylized shoot below! – See the photos at Broadway.com
Smash star Katharine McPhee tries a pair of bold blue suede shoes on for size – It is one of the hottest fashion trends of the moment and Katharine McPhee appears to be the latest celebrity to jump onto the bandwagon. The Smash star was seen shopping in New York on Tuesday and tried a pair of wedged trainers on for size. Known for her bold fashion choices, the striking 28-year-old actress opted for a pair in standout bright blue suede. – Read more at Daily Mail.co.uk
Adam Lambert: Let's Sell Out Tokyo! – Adam Lambert shows off his pearly whites as he leaves M Cafe on Tuesday (January 22) in Los Angeles. The 30-year-old actor took to Twitter to alert his fans of some tickets still available for his Tokyo shows this coming February. – See the photos at Just Jared
Taylor Hicks talks about his new gig in Las Vegas, reveals details of Bieber encounter (video) – In fact, Hicks says he introduced Justin Bieber to Saw's barbecue when the young pop star's tour came to the BJCC Arena on Jan. 16. Their backstage encounter was brief but memorable: "He was actually a little star-struck," Hicks says. "He said he watched my whole season on 'American Idol.' Then he rode off on scooter, one of those Segways, yelling 'Soul Patrol!'" – Read more at AL.com
Celebrity Spotting: Taylor Hicks Sups a Beer at Gordon Ramsay Pub – Singer Taylor Hicks, was seen at the all-new Gordon Ramsay Pub & Grill at Caesars Palace on Sunday night. During his visit, he sipped on chef Gordon Ramsay's favorite beer, Innis & Gunn, from a selection of more than 24 beers available on tap and 70 bottled beers. Hicks is currently headlining at Paris Las Vegas with scheduled performances into 2013. – Read more at Haute Living
Danny Gokey has heart to give – "I was taught at an early age on how helping other people will help you," Gokey said recently. "It's difficult to get back on your feet when you have the weight of the world on you. "Getting them here we are taking burdens off of them and re-instilling dreams. Some of the greatest success stories will come out of Sophia's Heart. This will be a pivotal turning point to a lot of people." – Read more at Tennessean.com
Phillip Phillips, Framed – To help celebrate the return of American Idol for its most exciting 12th season yet, this week we welcome last year's winner, Phillip Phillips, and his debut single, "Home." – Read more at Yahoo
RUN AWAY CARLY! RUN AWAYYYYY…
X Factor alum, Carly Rose Sonenclar poses for a photo with bad boy actor, Charlie Sheen. She tweets it with the caption "#wWinning…@CharlieShheen" and he responds, "You were awesome Carly! Right on…!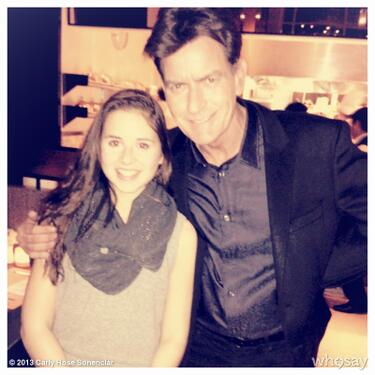 Lea Michele passes the Candies Torch to Carly Rae Jepsen
Lea tweets, "I had so much fun being the @Candiesbrand girl! Time to pass the torch!! The next Candie's girl is…."
Darren Criss rehearses with the Soul Children of Chicago Choir
Over the weekend, the Glee star performed with the choir at the Inaugural Kids Concert. Here is Darren and the choir rehearsing.
Simon Cowell's Syco to Co-Produce Film About 'Britain's Got Talent' Winner Pudsey – LONDON – Syco Entertainment, Simon Cowell's joint venture with Sony Music, is teaming with British movie banner Vertigo Films to co-produce a fictional film about the life of 2012 Britain's Got Talent winner Pudsey. Pudsey: The Movie is set to star dancing dog Pudsey and, at least in cameos, his trainer Ashleigh Butler. Their act won Cowell's talent search show and audience adolation in the U.K. and abroad. The project, billed as a family film, is being developed and produced by Syco and Vertigo. It is scheduled to shoot this spring with a Christmas 2013 release penciled in, with Vertigo Distribution handling the U.K. theatrical release. It has been scripted by top kids TV writer Paul Rose. – Read more at Hollywood Reporter