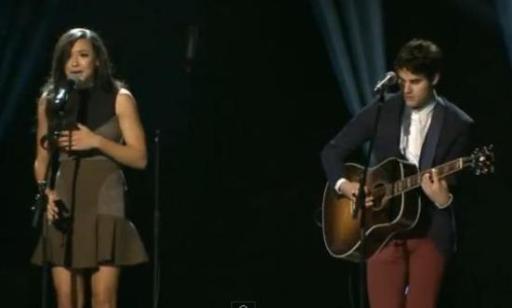 Glee stars, Naya Rivera, Darren Criss and Amber Riley performed, along with Usher and Katy Perry, at the Kids Inaugural Concert in Washington DC yesterday. The event was hosted by First Lady, Michele Obama and her kids Shasha and Malia and honored America's military families.
Naya kicked off the set with a sweet acoustic version of "Valerie," with Darren strumming on guitar. Amber (and her fierce new hairdo!) performed a powerful version of Christina Aguilera's "Beautiful". To cap things off, Darren brought the Soul Children Chicago choir out on stage to sing an especially lovely rendition of his original tune, "Not Alone."
Pretty awesome. Watch Below.
Naya Rivera with Darren Criss on Acoustic Guitar
http://youtu.be/TrD472qN4g0
Amber Riley – Beautiful
http://youtu.be/9J5BPkOMEIQ?t=2m51s
Darren Criss – "Not Alone" with Soul Children Chicago