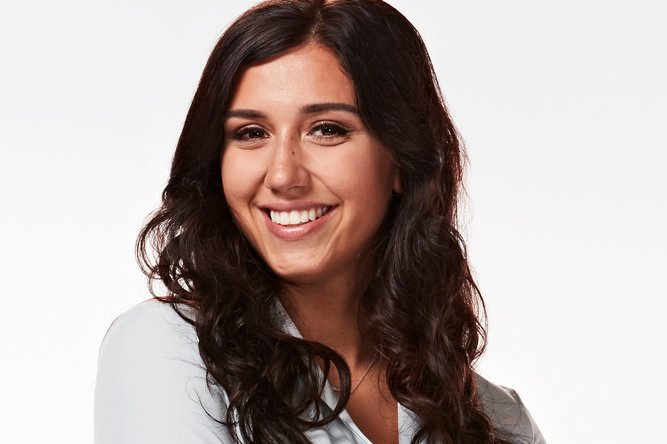 The Voice Season 13 Contestant Spotlight Hannah Mrozak
Watch Blake Shelton, Adam Levine and  and Jennifer Hudson push their buttons pretty quick for former American Idol contestant, Hannah Mrozak for her season 13 blind audition of Hailee Steinfeld's "Starving." She eventually went on to choose Team Adam. 
https://www.youtube.com/watch?v=tIucAS79sls
Hannah is from Milwaukee, Wisconsin, and has been singing ever since she was 6-years-old. Her website describes her as a small town girl with very big dreams and aspirations, and she explains her music style as a "soulful pop/R&B blend." She lists her musical influences as Tori Kelly, Christina Aguilera, and Etta James.
https://www.youtube.com/watch?v=p1ggWTAaA0E
Fans of reality competition shows may remember Hannah for her appearance on season 14 of American Idol. There she was featured most prominently at her audition, where she performed Something's Got A Hold On Me. Receiving praise from the judges, she was then sent through to the Hollywood rounds. She advanced all the way to the top 48, but was cut at the Green Mile after performing at the House Of Blues. While this ended her journey with Idol, this year on The Voice Hannah is hoping to make it all the way to number 1.
Outside of competition shows, Hannah has become known in her hometown for her appearances at events. She won Milwaukee's Got Talent in 2011, which she described as being "so exciting!" That same year she recorded her first CD of covers, Hopes And Dreams. Hannah occasionally also shares videos of her sing on her Youtube channel, even sharing a music video for her original song "It's In Me."
Instruments Hannah Plays: Guitar
Links:
Twitter: https://twitter.com/hannahmrozak
Instagram: https://www.instagram.com/hannahmrozak/?hl=en
Youtube: https://www.youtube.com/user/menamomto3
Facebook: https://www.facebook.com/Hannah-Mrozak-231961466877667/
Website: https://hannahmrozak.com/home
Bio (Source): https://hannahmrozak.com/bio
Overall Thoughts: Oh look, it's Hannah from American Idol! I remember her! Whenever I see a contestant from Idol pop up on another one of these singing shows, I instantly feel a tinge of slight favoritism towards them. It's like a crossover episode, and I just love when it happens! As for her upcoming run this season, I'm really curious to see how far she can take things. My advice to Hannah is to stick to her strengths: she has a very current look and sound, and should play those aspects up. Additionally, I'd suggest she pick her niche in the competition and stick to it. What I mean is that she shouldn't waffle between genres that much. I think she needs to find her lane, which if I had to guess is in pop, and just show off everything she is capable of. I'll be rooting for her this season.
Song Suggestions:
1- White Flag, by Dido
2- The Scientist, by Coldplay
3- One Call Away, by Charlie Puth
Thanks for checking out this contestant spotlight. If you want to check out my other work, I currently am managing two other blogs of my own, one of which covers TV shows.
Personal Blog: adamssoapbox
TV Blog: adamstvblog