It's opening night for Rachel (Lea Michele) in Funny Girl, and much of the gang is back together! Santana (Naya Rivera) returns to town. Plus, Tina (Jenna Ushkowitz) arrive for Rachel's big moment. Also attending the premiere are Will (Matthew Morrison) and Sue Sylvester (Jane Lynch). The latter is there just to witness what she's sure will be a trainwreck. Unexpectedly, though, Sue finds love interest, played by SNL alum, Chris Parnell (Photo). And those lovable TV anchormates, Andrea Carmichael and Rod Remington perhaps covering Lima's budding star for the local TV station.
Dave Karovsky (Max Adler) and Jacob Ben Israel (Josh Sussman) make an appearance in Rachel's worst nightmare. Literally, as she dreams of being back in high school You know that dream. The episode was written by Michael Hitchcock and directed by Eric Stoltz.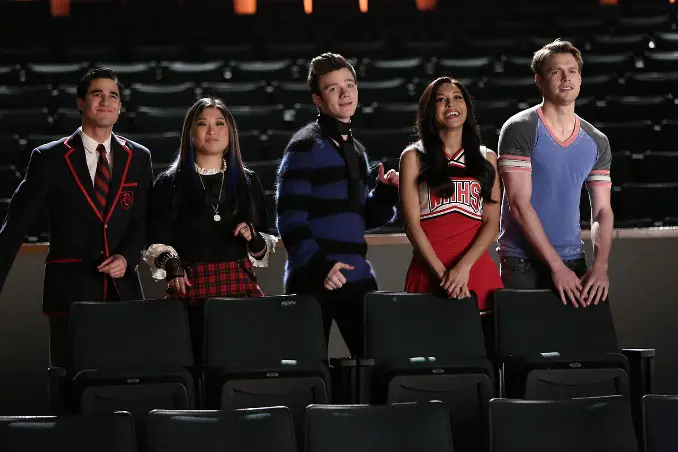 Also in this episode, the kids, including Kurt and Rachel get wild at a Greenwich Village gay bar, surrounded by shirtless waiters. Photos in costume: Kurt, Tina, Tina and Sam, Blaine, Rachel.
Listen to the Songs
There is LOTS of Broadway in Opening Night. I'm not complaining!
I'm The Greatest Star – Rachel as Fanny Brice in Funny Girl – Remember when Kurt auditioned for West Side Story in Season 3 on a scaffold with Sai Swords performing this classic? Fan war is now in progress!

***
Oh Heck. Just for comparison. Kurt's version from Season 3 "I Am Unicorn".

***
Who Are You Now from Funny Girl – Rachel and Sue
Maybe it's during this number that Rachel and Sue where they same dress. Remember…Sue finds love in this episode.

***
NYC from Annie – Sue and Will
There are some really colorful stills from this performance down in the photo gallery. Needless to say, Will and Sue are happy to have arrived in the big city.

***
Pumpin Blood by NoNoNo – Rachel, Santana, Mercedes
The promo below reveals this song sung at a gay bar in Greenwich Village.  Kurt, Blaine and Sam figure into the performance, too.

***
Lovesong – by the Cardigans – Rachel

***
Check out the FOX studio description:
CONCEPT: The gang must rally an uncharacteristically insecure Rachel in time to make her Broadway debut in Funny Girl… but not everyone in the audience is wishing Rachel the best.

EXTENDED SUMMARY: With her Broadway debut looming large, Rachel – feeling the mounting pressure of opening night – wakes from her "actor's nightmare." Despite almost unanimous critical praise following the show's previews, she finds herself falling victim to the seemingly endless stream of random bloggers and anonymous internet trolls determined to tear her down. While Kurt does his best to insulate her from the haters – turning the loft into a "hermetically sealed love bubble filled with nothing but positive affirmations" – he finds it a near impossible task, and the rest of the gang must pitch in to try and rouse Rachel from her uncharacteristic bout of insecurity in time for the curtain to rise. Meanwhile, Sue tags along with Will and the pair travel to New York for Rachel's big night. While Will hopes to support his former student as she tries to fulfill her lifelong dream, Sue attends the show operating under the assumption it will flop and Rachel will choke. However, both Will and Sue get more than they bargained for when their evenings take unexpected turns.
Rachel channeling Barbra HERE.  Rachel and Sue wearing the same outfit.
"Funny Girl" at #Glee?? pic.twitter.com/0RYcnBUAcz

— Lea Michele (@msleamichele) April 11, 2014
Photo Gallery
Promo