After the Glee kids sing songs from the movies on March 7, it will be time for them to put up their dukes.  The March 14 episode is titled "Feud" and will feature several fun mashups consisting of songs from artists who have feuded for real!
UPDATE:  AUDIO CLIPS FYEGleeClub
Marley tells Finn not to let Will define him (and grow a pair and go to college).
Santana confronts Brody about his "sketchiness" and threatens to expose him if he does not move out.
Santana & Rachel disagree on what Brody does as a side job
Finn and Will talk about resolving their feud without a musical shootout
Blaine, Artie & the rest of the Glee Club try to convince Will and Finn that the feuding between them needs to stop
The Official FOX summary reads, For the first time in glee club history, the students give the teachers, Will and Finn, an assignment to hash out the tension between them. Meanwhile, Santana becomes increasingly suspicious of Brody's side job in the all-new "Feud" episode of GLEE…"  And the Unofficial Glee Zone summary "
The kids of New Directions intervene as tensions continue to grow between Finn and Mr. Schue. The gleeks turn the tables on their teachers and assign them the theme of "Epic Musical Feuds" in the hopes it will lead to peace between their leaders, and the assignment spills over to include several other members of the Glee Club who have pressing personal issues with one another. Santana is suspicions about Brody and his extra-curricular activities. Meanwhile, Blaine and Sue compete in a head-to-head sing-off in order to determine Blaine's future as a Cheerio!, and Ryder begins to fall for a girl he's only ever communicated with via text message.
Can we can assume that Finn reveals to Will that he kissed his bride-to-be Emma? They battle it out with songs by Nsync (Finn) and Backstreet Boys (Will).  Check out the set still below–they re-create the marionette deal from "No Strings Attached"! Will and Finn also look pretty mad at each other. Santana is on her way to revealing the truth about Brody! Uh oh.  And Ryder is engaging in an online relationship? Let's hope he's not being catfished! (But I bet he is.)
Jane Lynch told Wetpaint in a recent interview: "I'm in the middle of a feud with Mr. Darren Criss, who plays Blaine, and I'm blackmailing him basically to get back on the Cheerios," she says. But why? The answer is simple. "'cause I want his a** on my Cheerios."  They sing songs from those feuding American Idol judges, Nicki Minaj and Mariah Carey!
This figures into the Blaine/Sue feud somehow. Hm.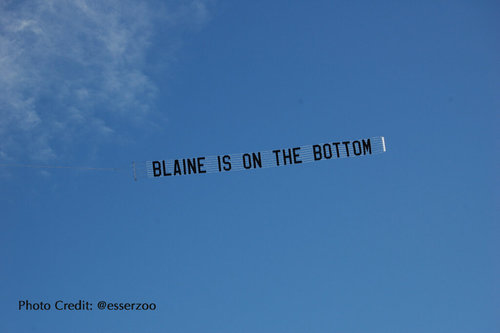 And…Darren Criss shot scenes at the LA County Airport!
And if this photo, tweeted by Ryan Murphy is any indication, Sue may have won the feud:
Santana sings "Cold Hearted Snake" and something tells me it has to do with what she uncovers about Brody's extra-curricular activities.   Rachel and Brody sing "How to Be a Heartbreaker," and it sounds like there will be no winner in that battle.
Who knows why Ryder and Unique are feuding, but why not name check Sir Elton John and one of his many feuds–with Madonna!
And finally, Ryder and Jake going mano a mano (over Marley, no doubt) with a….Tegan and Sara song? Interesting.
Watch for updates to this post!
Song Spoilers – In Performance Order
How To Be A Heartbreaker by Marina & The Diamonds – Rachel & Brody
The Bitch Is Back by Elton John vs Dress You Up by Madonna – Ryder vs Unique
Cold Hearted Snake by Paula Abdul – Santana Lopez
Bye Bye Bye by *NSYNC vs I Want It That Way by Backstreet Boys – Will vs Finn
I Still Believe by Mariah Carey vs Superbass by Nicki Minaj – Blaine vs Sue
Closer by Tegan and Sara –  Ryder and Jake
Photo Gallery
Sneak Peek – BTS of the Backstreet Boys/*Nsync performance
Promo: