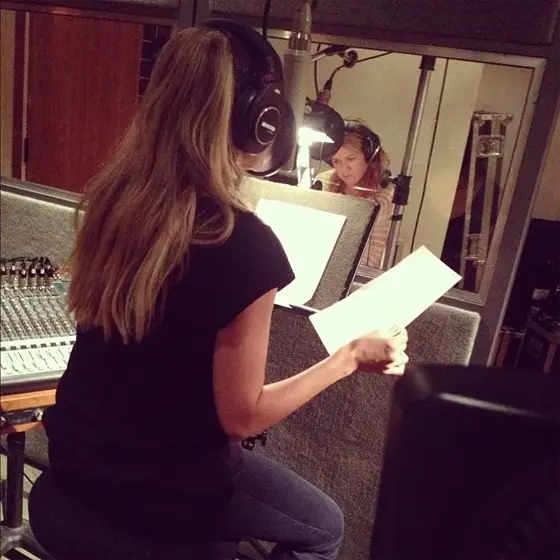 Check out the FULL stream first listen of Kelly Clarkson's duet with Jewel on a reimagined version of Jewel's smash hit "Foolish Games"! Kelly bends her phrasing to complement Jewel's treatment, and their tones prove to be a very pretty match. The duet is produced by Dann Huff, who produced Kelly's country single "Don't Rush" as well as the version of "Mr. Know It All" that went to country radio. The new version stays true to Jewel's original folk/pop approach, but with a little bit of power there in the middle.
Kelly also continues her week of radio interviews, a nice victory lap after her inauguration performance and engagement. In the last minute of this interview with pop station WBLI, Kelly teases two big surprises for 2013 that she can't announce yet: a tour with a fellow act set to start in August, and an album that she has been wanting to make for 10 years:
What do you think of Kelly's duet with Jewel? What kind of album do you think Kelly is talking about? Who might Kelly wind up touring with? SO MANY QUESTIONS, we may as well be planning Kelly's wedding with her! OK that would be kind of fun, albeit maximally intrusive.
UPDATE: Oh and what's this? Blu Sanders, who cowrote Kelly's soulful single to country radio "Don't Rush," just tweeted:
Carnival in Rio: Check. Great Wall of China. Check. Sing a duet in the studio with @kelly_clarkson Check.
Kelly has teased that she has lined up another soulful, fun song she's planning to send to country radio. Could that be related to this tweet? Could the tweet be related to Kelly's secret album? Could it be something else? EVEN. MORE. QUESTIONS.
P.S. This Tweet capture(found at Pulse, apparently via the now deactivated @saxmancgregg Twitter account belonging to a guy who has played sax with Kelly before) may give us a strong hint as to what Kelly's secret album project may be: