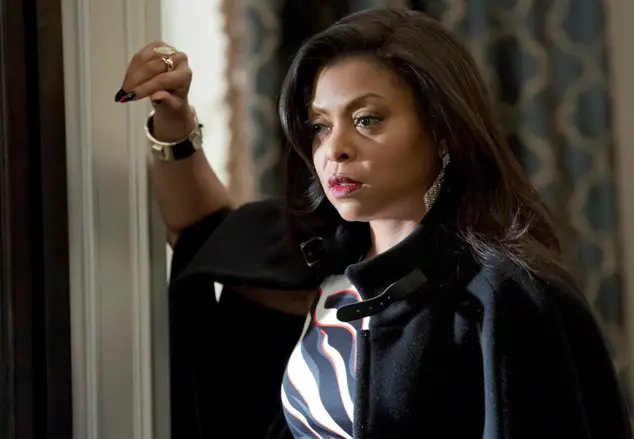 The Empire 2 hour finale airs Wednesday March 18 on FOX at 8/7c PM, and it promises to be a juicy one! Check out this episode summary from FOX.
Jamal and Lucious are on their way to forming a music-centered relationship, but once again, Lucious has a secret that's about to change everything. Hakeem decides to flirt with the enemy, while trying to figure out what the best move is for his career. Meanwhile, Cookie is cooking up a plan of her own in the all-new, special two-hour "Die But Once/Who I Am" Season Finale episode of EMPIRE
The finale, a twofer titled "Die But Once/Who I Am" (Episodes 11 and 12) is chock full of special guests, including Jennifer Hudson, Snoop Dogg, Rita Ora, Juicy J and Patti Labelle.
Empire stars, Jussie Smollett (Jamal Lyon), Bryshere Gray (Hakeem Lyon) and co-creator, Danny Strong revealed a few spoilery details to look forward to when you settle in to watch tomorrow night:
Jamal will get some: Jamal's love life has hit some serious highs and some serious lows this season. But now that Jamal's not worrying about his daughter half-sister Lola, things are finally heating up between him and Ryan. "Shortly put, Jamal is not done with Ryan yet," Smollett said. "There's a desk involved. There's some lovin' involved and they're not done."

Hakeem is out for blood: There's been a chip of Keem's shoulder all season, but rather than piss in a restaurant or write a hateful rap, the youngest Lyon is going to exercise his anger in a much more spiteful fashion. "My most turned-up moment is coming up actually in the finale," Gray revealed. "It's very sexual. It's about a rivalry, to really get back at somebody."

As for Andre (Trai Byers), he'll continue to distance himself from Lucious as he continues his religious therapy under the guidance of Jennifer Hudson's Michelle. "We're excited about Andre. Where he goes, he gets better and better," Gray said.

There's going to be a fantastic catfight – directed by Debbie Allen! The Fame alum was enlisted to direct the finale, and according to Strong, Allen can add "catfight expert" to her impressive list of skills. "I was on set for a bit, and she's sort of everything you'd imagine her to be," Strong said. "She's just super cool, super hip, really smart, really talented, and I remember there was this catfight that she was directing, and at one point she yelled out this direction, 'Now toss the bitch!' and I just remember thinking 'That is, I think, the greatest piece of direction I've ever heard in my career.'"
Also, Strong doesn't expect a 22 episode order next season. I would love all the Empire I could get. But on the other hand, I don't want it run into the ground, either (See: Glee). Another 12-15 episode order would be just right for season 2. Read more at TV Guide.
Check out these performance clips from the finale! Featuring, Snoop Dogg, Rita Ora, Jussie Smollett and Bryshere Gray
"Peaches and Cream" from "Die But Once"
Snoop Dogg performs.
https://youtu.be/GRGRhi_WOu4
"Little Boy" from "Who I am"
A performance by Rita Ora. It's from the "Lucious Lyon Sound" concert produced by Cookie. Lucious texts Cookie, asking to see her ASAP. Hm.
https://youtu.be/VoMxjRhmP0U
"What The DJ Says" from "Who I Am"
Jamal and Hakeem perform at the Lucious Lyon Sound concert. Flashback!
Photo Gallery