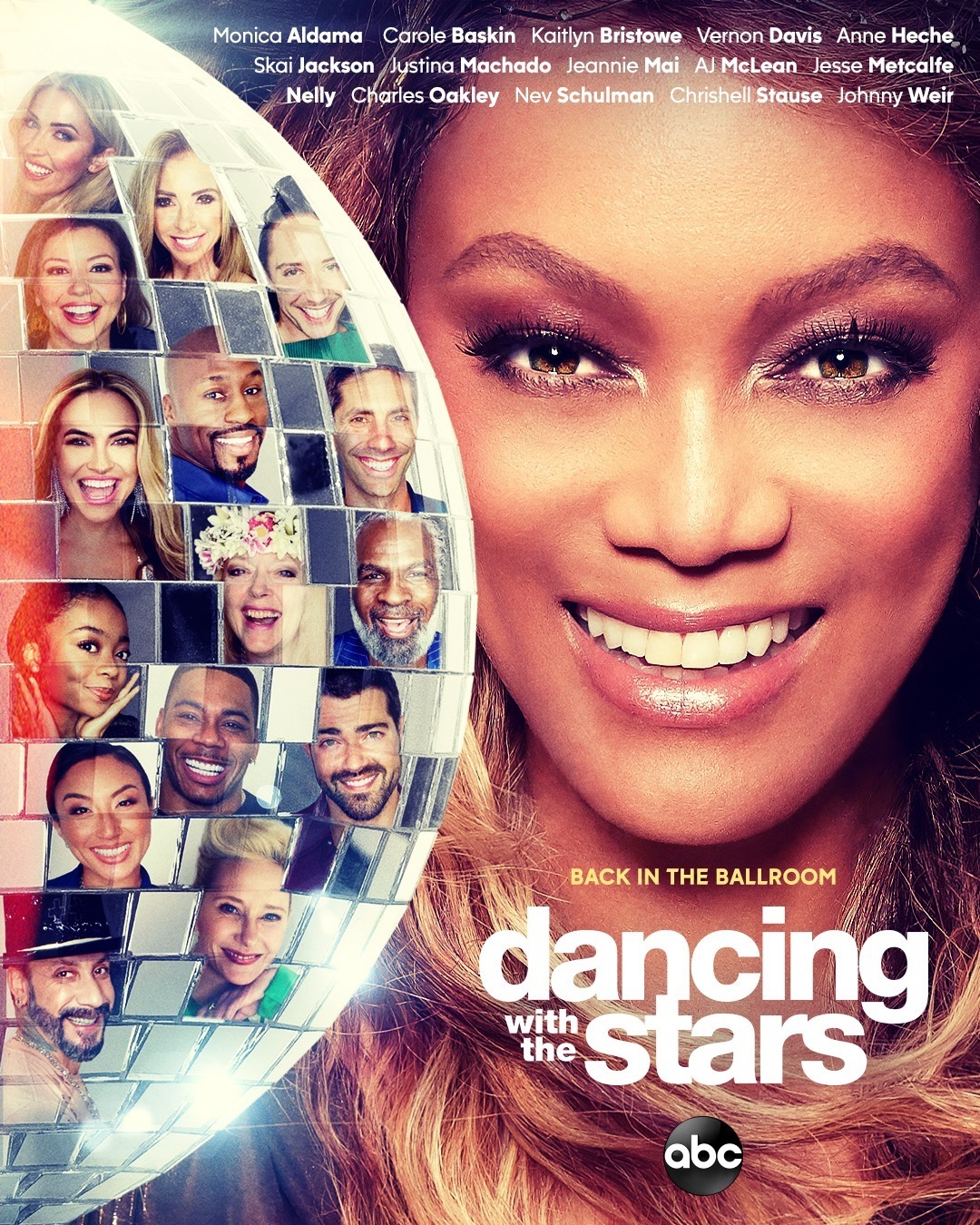 Hey Everyone :)
Welcome to a special Tuesday night edition of Dancing with the Stars. After last week's season twenty-nine premiere, every pair will return to perform once again. This time however, you will be able to vote live for your favorites leading to the first elimination of the season.
I found the premiere last week to be a bit of a mixed back of positives and negatives. While new host and executive producer Tyra Banks wasn't a disaster, Tom and Erin were sorely missed. Derek Hough is a great addition to the judges panel. And above all else, we have a decent cast with celebrities who seem genuinely happy to compete and ready to work.
I would say Carole, Chrishell, and Charles are in the most danger tonight. We will see who can improve from last week and how strong a fan base each has. It would be surprising to see anyone else in any real danger considering most did an adequate to decent job, all things considered. As usual, all pairs are tasked to perform an unlearned dance style.
I will include voting details under each performance review but remember, you can begin voting as soon as the show begins and ends during the final commercial break before elimination.
For anyone wanting to vote right at the top of the show- go to ABC.COM to vote online or use the following information to vote via text
Text AJ to 21523 to vote for AJ McLean
Text ANNE to 21523 to vote for Anne Heche
Text CAROLE to 21523 to vote for Carole Baskin
Text CHARLES to 21523 to vote for Charles Oakley
Text CHRISHELL to 21523 to vote for Chrishell Stause
Text JEANNIE to 21523 to vote for Jeannie Mai
Text JESSE to 21523 to vote for Jesse Metcalfe
Text JOHNNY to 21523 to vote for Johnny Weir
Text JUSTINA to 21523 to vote for Justina Machado
Text KAITLYN to 21523 to vote for Kaitlyn Bristowe
Text MONICA to 21523 to vote for Monica Aldama
Text NELLY to 21523 to vote for Nelly
Text NEV to 21523 to vote for Nev Schulman
Text SKAI to 21523 to vote for Skai Jackson
Text VERNON to 21523 to vote for Vernon Davis
We begin with a totally unnecessary package as Tyra coaches the contestants on how to "smize." They need to learn how to smile with their eyes. Okay…
Tyra welcomes us to the show and we begin with Nev.
Nev Schulman & Jenna – Cha-Cha-Cha
Vote at ABC.COM or Text NEV to 21523
WOW. Damn. I am impressed. Nev had a slow elegant dance last week, so I was interested to see how he would tackle something fast. Success! Some lovely hip movement there and fun flirty choreography by Jenna. Nev definitely has potential to do very well in this competition. I only worry that too many audience members will have no clue who he is.
Derek calls it a solid performance. He wants him to watch his shoulders- keep them down a bit. Bruno loves the showmanship. He tells him to keep it going. Carrie Ann is impressed. She gives him kudos on his arm and hand placements.
Carrie Ann- 7, Derek- 7, Bruno- 7 = 21/30
Skai Jackson & Alan – Samba
Vote at ABC.COM or Text Skai to 21523
Damn that little hiccup. I'm not sure who was at fault but it messed Skai up for a few seconds until she got her rhythm back. It was a good samba overall. I think she impressed more last week with her initial dance but you can tell this girl knows how to move and had that little mistake not have occurred, it would have been another good performance.
Bruno tells her that things happen. He still believes in her due to her cleanliness and talent. Carrie Ann thought the routine was great. She wants her to work on her arms to not be "salutish." Derek says a setback sets you up for a comeback. He warns her to be more grounded in her routines.
Carrie Ann- 5, Derek- 5, Bruno- 5 = 15/30
Johnny Weir & Britt – Tango
Vote at ABC.COM or Text Johnny to 21523
Britt is a good partner. She is going to be able to modernize certain dances to appeal to Johnny's theatrical side. This was a good tango. He needs to be careful of his feet at times because they got a bit messy but overall, some solid stuff here. Appreciated how much attention they put to making it a show, which is entertaining and grabs the audience.
Carrie Ann says his footwork is a bit odd. He hasn't found the floor she comments. Derek loves the Johnny drama. He tells him to watch his right arm when in frame. Bruno says he was much more focused but he needs to get more staccato and watch for mistakes.
Carrie Ann- 6, Derek- 6, Bruno- 6 = 18/30
Justina Machado & Sasha – Foxtrot
Vote at ABC.COM or Text Justina to 21523
Quite pretty. On occasion, a bit sloppy when trying to get back into hold and spinning with Sasha but nothing overtly bad. She is having such a joy dancing on this show and it makes me smile. I think she impressed more overall last week but this was a good follow up and I have high hopes for her.
Derek calls her a natural and beautiful dancer. He is all compliments. Bruno says she makes him happy and she dances from the heart. He cautions her on her turns. Carrie Ann says she was taken to another place while watching her dance.
Carrie Ann- 7, Derek- 7, Bruno- 7 = 21/30
Monica Aldama & Val – Jive
Vote at ABC.COM or Text Monica to 21523
Okay. That was…not very good. Needed a whole lot more energy- felt so sluggish throughout. And desperately needed more kicks and flicks. Lemme see a jive true to form if it is a jive. I think Val lapsed with the choreography there or maybe he was nervous Monica couldn't handle it.
Bruno says her cheerleading quality helped. But he felt the timing was off. He tells her there is some work to do. Carrie Ann saw her relaxed. He didn't want her to do the lift- it distracted from the dance. Derek calls it fun, playful but agrees with Bruno on his points.
Carrie Ann- 5, Derek- 6, Bruno- 6 = 16/30
AJ McLean & Cheryl – Foxtrot
Vote at ABC.COM or Text AJ to 21523
Really solid. Cheryl went for broke with that choreography. Some of it worked more than other parts but overall, a fun and lively foxtrot that was entertaining and adequately danced. I really loved the feel of it as well- a throwback to old times.
Carrie Ann say no nerves. She felt it was well delivered. Derek calls him a showman. He mentions a little mistake but praises him. Bruno says the rat pack would be proud. He tells him to be careful of the energy- it was too choppy at times.
Carrie Ann- 7, Derek- 6, Bruno- 6 = 19/30
Anne Heche & Keo – Foxtrot
Vote at ABC.COM or Text Anne to 21523
Good job. I would only caution Anne to not lean so much on Keo because at times, it looks like he is dragging her around the floor. She needs to strong enough in her movements to go at it alone. But it was a nice foxtrot and I saw some improvement over last week. That's always a plus.
Derek loves the partnership. He thought too much energy was going on on top. Bruno praises her for the content. Sort out of the footwork and frame. Carrie Ann loves the trust. She agrees with Derek on her being tense on top.
Carrie Ann- 6, Derek- 6, Bruno- 6 = 18/30
Nelly & Daniella – Cha-Cha-Cha
Vote at ABC.COM or Text Nelly to 21523
I see what you did there Daniella. She intentionally threw in a lot of groove solo moments because the cha-cha steps were very stiff and off time. That's not going to work further down the line. Nelly has to master those steps and loosen up. It was another fun routine from the rapper but last week was better.
Bruno says he has fantastic musicality. He tells him to articulate more through the foot. He lost the Cuban motion. Carrie Ann could tell he practiced a lot but do better on turns and watch his shoulders. Derek loved the timing.
Carrie Ann- 6, Derek- 6, Bruno- 6 = 18/30
Chrishell Stause & Gleb – Rumba
Vote at ABC.COM or Text Chrishell to 21523
So, definitely an improvement from last week. That's for sure. And that's considering I thought the judges were way too harsh. The rumba needed some more hip action. That through Gleb's legs trick was rather clunky and she needs to work on her steadiness. I know that sounds like a lot of criticism but it was a better overall performance than last week. Interested to see if the judges go a bit easier this week on her.
Carrie Ann says it was so different- dancing from her heart and a better connection. She mentions a lift. LIFT POLICE. Derek feels her feet still need work but tells her it was a good job. Bruno is impressed. He loved some of the lines and shapes but she has to learn how to link them.
Carrie Ann- 6, Derek- 6, Bruno- 6 = 18/30
Update– Kaitlyn who apparently has an injured ankle will dance tonight. I didn't even know there was a chance she was so injured that she couldn't dance. Artem is happy about that.
Charles Oakley & Emma – Cha-Cha-Cha
Vote at ABC.COM or Text Charles to 21523
Oh boy. Yeah, so Charles not being a natural dancer and being way too tall (not his fault) is going to be a running issue. That said, better than last week. Also said, not by much. Emma does some incredible work here almost all alone. I like Charlies but the dancing has to improve if he is going to have any shot at lasting. I'm not sure he can improve though.
Derek says the timing was better but the footwork needs a lot of work. Bruno says he was more at ease but work on his feet and timing. Carrie Ann tells him to watch his focus.
Carrie Ann- 5, Derek- 5, Bruno- 5 = 15/30
Jesse Metcalfe & Sharna – Foxtrot
Vote at ABC.COM or Text Jesse to 21523
So, Jesse needs to just keep practicing. Because with practice will come confidence and he won't look like he is desperately trying to each step right. He looks a little too much like a dance student right now. He has loads of potential and parts of that foxtrot were really sweet but a little more practice and a little more self assured attitude will help.
Bruno tells him to watch his bum, posture, and footwork but he can sell it. Carrie Ann disagrees and felt some of that was good. She tells him to watch his posture. Derek, stuck for time, says good job.
Carrie Ann- 7, Derek- 7, Bruno- 6 = 20/21
Jeannie Mai & Brandon – Cha-Cha-Cha
Vote at ABC.COM or Text Jeannie to 21523
So much fun. Jeannie gives it her all but parts of that were very sloppy. It needs a bit of polish. Especially when she is doing something with Brandon and not on her own. She isn't going to achieve high scores with so much solo action. I appreciate the positivity and love for it that she so clearly has though.
Carrie Ann says it was an improvement but she needs some taming. Derek says her weight was a little far back and her shoulders went up. But he likes her energy and charisma. Bruno loves the play with Brandon but needs polish.
Carrie Ann- 6, Derek- 6, Bruno- 6 = 18/30
Carole Baskin & Pasha – Viennese Waltz
Vote at ABC.COM or Text Carole to 21523
Gotta give props when they are due. A major improvement over last week. Sure, the choreography could not have been more simplistic and Pasha was very kind here in guiding Carole throughout but that was still an infinitely better performance than last week. So, she's on a decent track.
Derek calls it a bit improvement. He says the dance suits her. Bruno says there is hope. Carrie Ann liked it and felt it was simple but suited her perfectly. She cautions her on the shoulders.
Carrie Ann- 6, Derek- 5, Bruno- 5 = 16/30
Vernon Davis & Peta – Paso Doble
Vote at ABC.COM or Text Vernon to 21523
Good paso. Definitely saw proper and good paso steps in there. A little sloppy in moments but overall, a very good dance. That was a horrendous song to do a paso to though. Dumb. But Peta made the best of it with decent choreography and Vernon was up to the task. Good on him.
Bruno loved the power and determination. He tells him to work on the shaping in a paso. Derek cautions him as well about shaping. He tells him to keep his bum under. He wanted more intensity. Carrie Ann loved that he corrected himself in finding the music in the dance. She tells him to dance bigger.
Carrie Ann- 6, Derek- 6, Bruno- 6 = 18/30
Kaitlyn Bristowe & Artem – Foxtrot
Vote at ABC.COM or Text Kaitlyn to 21523
Geez, this show and the milking of injuries. LOL. Kudos to Kait for dancing in pain. Very pretty. Very good too. One little error on a turn but overall, a strong foxtrot. That's a quality of movement you expect in later weeks of the competition, so she should be quite pleased. Really elegant from start to finish.
Carrie Ann calls it a beautiful performance with one little stumble. Derek found it beautiful and graceful. Bruno loved how she filled the space like a ballerina.
Carrie Ann- 7, Derek- 8, Bruno- 7 = 22/30
Judges Scores
Kaitlyn– 22
–
Nev– 21
Justina– 21
–
Jesse– 20
–
AJ– 19
–
Johnny– 18
Anne– 18
Nelly– 18
Chrishell– 18
Jeannie– 18
Vernon– 18
–
Monica– 16
Carole– 16
–
Skai– 15
Charles– 15
RESULTS!!!
SAFE– Kaitlyn & Artem, Vernon & Peta, AJ & Cheryl, Justina & Sasha, Jesse & Sharna, Johnny & Britt, Monica & Val, Nelly & Daniella, Jeannie & Brandon, Nev & Jenna, Anne & Keo, Skai & Alan, and the final safe couple is… Chrishell & Gleb.
In danger couples this week– Carole & Pasha and Charles & Emma. The JUDGES have to save one of the couples and keep them in.
Carrie Ann SAVES Carole & Pasha
Bruno SAVES Charles & Emma
Derek SAVES Carole & Pasha
Charles & Emma are ELIMINATED.
Well, neither of these two are going to last so it didn't really matter here. Carole did do a better overall performance tonight so I can't complain.
Next week, DISNEY NIGHT. Yup, corporate synergy is back. And remember, the show returns to Monday next week for the rest of the season. Thanks for watching with me tonight. :)