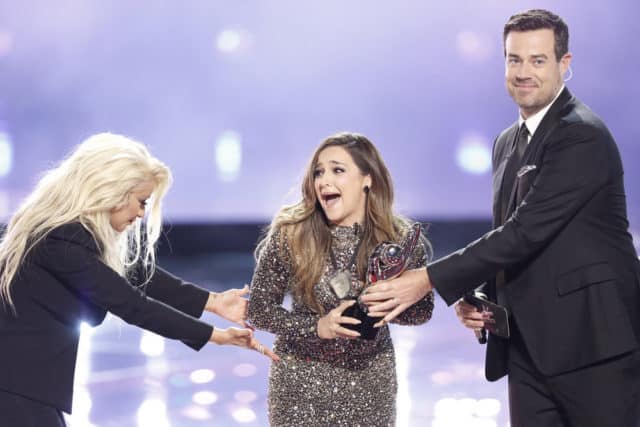 Pop singer Christina Aguilera is not done talking about her experience as a coach on The Voice. In an interview with W Magazine, once again calls the show, which she signed on as one of the original judges in 2011, a "hamster wheel."
Christina was shocked, shocked that The Voice wasn't actually all about, uhm, the voice. The producers cast good looking people! The network and showrunners produce a product designed to make as much money as possible! QUELLE SHOCK.
It smartly played to Aguilera's strengths, at least at first. "And then I felt like things really started to shift and change," she said. "I signed on to a show where the blind audition element was something interesting, something genuine. After a while, though, you start to see that everyone is good-looking." She laughed. "It wasn't a comfortable place for me to be, where I'm just part of a money-making machine. When I stop believing in something, then it's like, What am I doing here? I think I did choose to, no pun intended, take a chair for so long and do something very commercial for my little ones. But at a certain point I felt like I'm not even doing them a service by cheating myself and what I'm here to do. They should be seeing Mommy live her best life."
Don't forget–in the beginning, Christina was the highest paid coach on The Voice. Actually, the highest paid panelist on all the singing shows. I believe she was making around 18 Million dollars a cycle. Not exactly signing on out of the goodness of her heart.
Christina swears no one person drove her away from The Voice, adding that rather than being annoyed, she found the Blake Shelton/Gwen Stefani romance "cute." Also, she fought for another woman on the panel, but was denied by producers.
Aguilera left The Voice in 2016, but not, she clarified, because of what the gossip insinuated—that the romance between Blake Shelton and new judge Gwen Stefani was sucking all the air out of the show, and away from Aguilera. "Oh my God, no!" she said of the reputed feud with Stefani. "No, it never had anything to do with any one person at all. And I actually think it's really cute Blake and Gwen found love in that chaotic environment." She laughed. "I fought for a long time to get two females in the chairs. And, for a long time, I was just told it wasn't the demographic. But just know that I was a fighter behind the scenes."
"Once again, I found myself in that place where I'm being told what to do, what's going to be acceptable or unacceptable, what's okay or not okay." Christina told W. "It's like, God, you know, I'm a mother of two now." She wagged her finger at me. "The genie is out of the bottle."
Suddenly Christina is dissing The Voice? Eh. She's promoting a new record. She knows what kind of soundbites will get her into the news cycle.