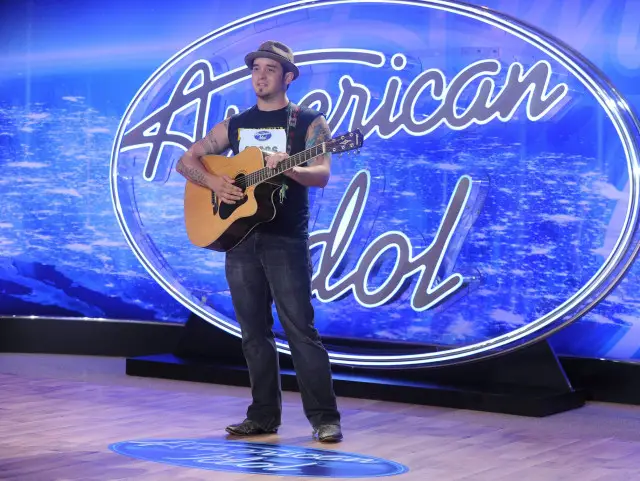 Chris "CJ" Johnson American Idol 2016 Season 15 Top 24
Chris "CJ" Johnson
is a 28-year-old singer-songwriter from Memphis, Tennessee, who has been performing music professionally since the age of 18. Getting his musical bearings performing in Nashville, CJ never had a music lesson and preferred to learn and craft his own style from watching others perform. In addition, CJ was influenced by listening to Stevie Ray Vaughan and Jimi Hendrix among others while he was growing up. According to his Facebook, in the past CJ says that he has worked with Ingram Hill, Premo' D'anger and multi-platinum producer, Carlos "6 July" Broady. With CJ, as he puts it, "you'll never know what to expect."
Click to see the FULL LIST of American Idol 15 Top 24 Contestants!
American Idol 15 Top 24 Video Sneak Peek
In addition to his solo work, CJ is a member and lead-singer of the band American Fiction. According to their website, American Fiction was started when CJ and Landon Moore were collaborating and writing songs together. With time, the duo decided to put together a band, so they recruited new members, Cliff Jackson, Pat Fusco and Blake Rhea. One day, CJ decided to take a chance and send in a demo of the band's music to rock producer, Eddie Kramer, who has worked with The Beatles, Led Zeppelin and Jimi Hendrix. Amazingly, Kramer enjoyed the demo so much that he reached back out to American Fiction and offered to help them make an album. Kramer described the reason he wanted to work with the fledgling band was CJ's voice and potential. Moving forward from there, the band released their debut record, Dumb Luck, in 2014. Since then the band has stuck together, performing at different venues.
CJ auditioned for American Idol over this past summer and advanced past all the preliminary rounds, making it all the way to the celebrity judges. According to The Idol Pad, CJ advanced to the Showcase round, where he performed Parachute, by Chris Stapleton. Giving a strong enough performance, CJ was then admitted into the top 24.
Instruments CJ Plays: Guitar, Drums, Bass
Links:
CJ Talking About His Musical Background: https://www.youtube.com/watch?v=35fpvRfsvpY
Overall Thoughts: People are going to love CJ and I have a growing feeling that he is going to be in this competition for the long haul. I don't know guys, I'm getting ringer vibes from this dude; CJ has the talent, the look, the personality and just about everything else that an American Idol contestant could need in order to win. Will he win? It's to early to say, but unless he crashes in the top 24 round, I expect him to make it well into the top 10. Then again, last year I kept saying Clark Beckham was going to win all season and he didn't, so what do I know.
Song Suggestions:
Dumb Luck, by American Fiction. This song is pretty amazing. When the big guns need to come out and he needs a moment, I'd highly suggest this song be CJ's secret weapon.
All These Things That I've Done, by The Killers
She's So Mean, by Matchbox 20
Chris "CJ" Johnson sang "You Make My Dreams Come True," by Hall & Oates at his Little Rock audition. Click to check out his FULL AUDITION
More American Idol Performances:
Showcase Round – Parachute by Chris Stapleton – Click to Watch VIDEO