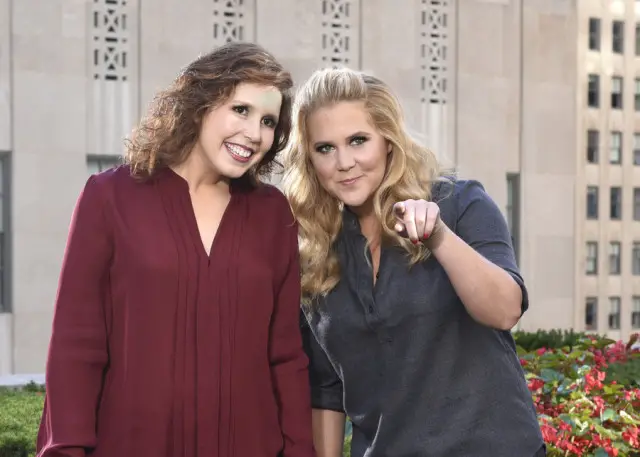 Best Amy Schumer Skits Saturday Night Live – VIDEO
Last night's Saturday Night Live (10/10) featuring comic, Amy Schumer, wasn't a homerun, but there were several stand-out hits.
Cold Open – FOX and Friends
The cold open was a FOX and Friends spoof featuring Steve Doocy (Taran Killam), Elisabeth Hasselbeck (Vanessa Bayer) and Brian Kilmeade (Bobby Moynihan) interviewing Utah Congressman Jason Chaffetz (Pete Davidson) and Florida Congresswoman Debbie Wasserman Schultz (Kate McKinnon). Between the republican attempt to de-fund Planned Parenthood and the Speaker of the House crisis, this stuff practically writes itself.
http://www.hulu.com/watch/855636
Amy Schumer delivered her current stand-up routine as her monologue, which is fitting as the appearance appears to be about promoting her upcoming HBO special (based on the commercial spots during the broadcast). Amy is fearless as she tackles body image and sexuality–topics that make some folks uncomfortable. The story she told about the young actress who was cast as her younger self in Trainwreck was both funny and heartbreaking.
Amy's movie, Trainwreck, was playing at the theater in Louisiana where a deadly shooting took place in July. Affected deeply by the incident, she stood with her cousin, Congressman Chuck Schumer to pitch for stricter gun control laws. It isn't a surprise that she took on the issue in a couple of bits.
The Gun promo satirizes how deeply gun culture is embedded in the American psyche, as we see citizens go about their daily lives–always with a gun handy. The clip makes the salient point that gun violence in the US is much more than just an availability issue.
And in this City Council meeting parody, Amy plays a little girl who wants to bring her gun to school while invoking Jesus and homophobia.
Amy brings the laughs as she plays an unhinged guest at a baby shower who goes overboard when her friend Angie (Cecily Strong) loses her purse during. Vanessa Bayer is the mom-to-be that doesn't believe in doctors and stuff.
http://www.hulu.com/watch/855642
In this skit, (Amy Schumer) can't keep her improv "skills" in check during a historical reenactment of the death of Abraham Lincoln. Did you know John Wilkes Booth assassinated Abe Lincoln because he wanted to "plough" Mary Todd Lincoln? "HA HA MISSED HIM PECKERHEAD" maybe my favorite line.
http://www.hulu.com/watch/855648
I dunno. Was it just me? I didn't laugh much during the Delta airlines bit. In it, Amy and Vanessa Bayer in a very broad skit that featuring singing flight attendants and an airline door that keeps opening and sucking them out.
https://youtu.be/TL0IQvXD8F0
Slightly funnier, A precocious student (Aidy Bryant) repeatedly interrupts a porn shoot starring a teacher (Amy Schumer) and her student (Kyle Mooney). I thought Aidy stole this skit, to be honest.