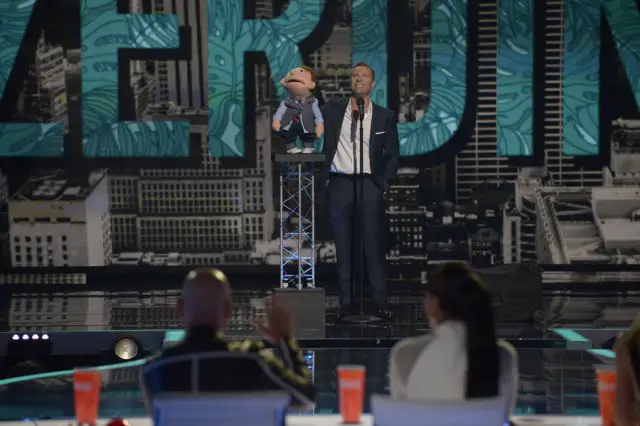 America's Got Talent 2015 Predictions Quarterfinals Week 1
Hey guys, it's Adam, here with my predictions for tonight's first live results of the season.
Like I did last year, I broke my predictions into different categories, where at the end I culminated it all into one big final prediction. As always, please let me know in the comments if you agree or disagree with me. It is always nice to get a good discussion going! Anyway, without further introduction, check out my predictions.
I'd Eat My Computer If The Don't Advance
1- Paul Zerdin– In my opinion, Paul won the night. I have really not been a fan of his in the past, but tonight, I felt like there was just something different about him. The ventriloquist won me over. Paul made me laugh, and also scared me half to death when the puppet came to life without him controlling it. All in all, I loved it. The great performance he gave should sail him right on through to the next round.
2- Drew Lynch– Like with Paul, tonight was a turning point for my opinion of Drew. I spent some time watching some of his youtube videos and as I got more used to his stutter, I found myself able to enjoy his jokes more. While I personally found his laughing at his own jokes a little annoying, as a whole Drew delivered just the kind of performance he needed to. With some great responses from the judges and the audience, I think Drew solidified himself a place in the next round.
Likely Going To Advance
1- Samantha Johnson– I feel like Samantha stuck to her guns tonight; she didn't really take any risks, and focused on delivering a typical song that she could show off her vocals. With a pimp spot and great reception from the judges, Samantha should advance just fine to the next round. For future rounds though, Samantha is going to need to take a creative risk or she will fall into the one note kind of performances every week. What Samantha needs, is a creative rearrangement to grab everyones attention.
2- Benton Blount– While Samantha took on a bigger song, I think Benton gave the more memorable performance. Say Something is a song best left to it's simplicity, and with Benton switching it up a little, but still staying true to the melody, he stood out without needing the big runs like Samantha does. In the end, while I think Samantha edges out Benton in terms of vocal ability, it is the fact that Benton really stands out in the crowd while she is a generic belter that makes him trump her. That and being a WGWG doesn't hurt. Either way, Benton should be just fine.
Heading Home On The Bus Of Shame
1- Triple Threat– I feel bad for these guys. When they get back to their hotel and re-watch their performance from last night, I know they are going to be really crushed. With three buzzers and some really harsh critiques from the judges, I doubt there is any way they will be moving on tonight. Sorry guys, I feel for you.
2- Vita Radionova– I may be in the minority, but I really like Vita's act. I find contortion oddly graceful and creative, so it was a shame for me when she got some harsh criticism. As much as I enjoy her act, I don't see a scenario where she moves on.
3- The Gentlemen– Poor kids were fodder before they even took the stage. With some lukewarm critiques from the judges, I think their fates are sealed.
So those are my safe predictions so far. Time to move on to the more "in the middle" acts. Of these, I would guess 2 will go and the others will be safe.
Could Go Either Way
1- Piff The Magic Dragon– I wish wish wish I didn't see Piff's performance tonight. Each round Piff had been consistently delivering, but tonight was not only a misstep, but a huge one that might end his run in the competition. Because it was just his first misstep, I would think the public still remembers his other performances and will keep him safe. However, should he do something like what he did last night again, his run will be shorter than you can say "Lazaro Arbos"….. oh wait, he actually made it far. Never mind.
2- Alondra Santos– Poor Alondra is possibly going to fall through the cracks once again. Last night, I thought her acapella part was fantastic, but once the music kicked in I think she crashed and burned. With Samantha Johnson in the mix this week, I think Alondra will be overshadowed in the public's eye, resulting once again in her elimination.
3- Craig and Micheline – These guys got lucky, because with 7 acts moving on, they have a chance of maybe squeaking through. If they do though, they will be fodder for the next round.
4- Showproject– Same thing as Craig and Micheline.
5- Siro-A– The only reason these guys are not in the "likely going to advance" category is because they performed first in the death slot. I thought that for an opening act, these guys brought the house down and they absolutely deserve to move on. The fact that the performed first though just has me a tad bit worried that they might slip through the cracks. If there is justice in the world they should be just fine.
Should be the 7 Advancing:
1- Paul Zerdin
2- Drew Lynch
3- Samantha Johnson
4- Benton Blount
5- Siro-A
6- Piff The Magic Dragon
7- Craig and Micheline
Will be the 7 Advancing:
1- Paul Zerdin
2- Drew Lynch
3- Samantha Johnson
4- Benton Blount
5- Siro-A
6- Piff The Magic Dragon
7- Showproject
So those are my predictions, what are yours? Who do you think should/should not advance? Who do you think is going to slip through the cracks? Sound off in the comments!