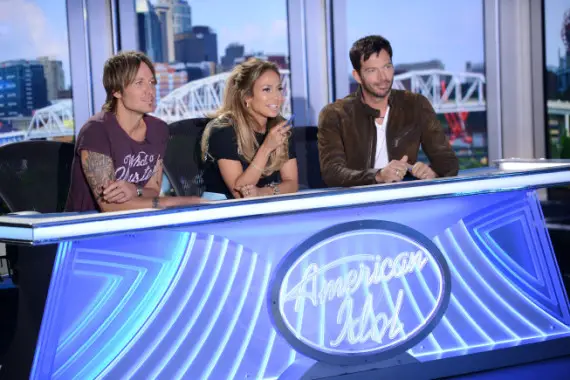 The American Idol 14 Judges Round of auditions began in Nashville on Sunday, finishing up on Monday afternoon. In total, the judges–Keith Urban, Jennifer Lopez and Harry Connick Jr, heard about 30 singers on each day, according to USAToday.
"Sunday was a good day, but it wasn't an explosive day," Jennifer revealed. "We found two or three people who could be in the top 12 — really pure artists, not just good voices."
As if guitar playing hopefuls were not enough, Season 14 will introduce the option of piano accompaniment when the singers face the Idol judges for the first time.
"The last few years, they've let people sing with a guitar, so they thought, 'Let's bring a piano in the room,' " said music director Michael Orland. "In the old days, in Hollywood Week, they would step it up a little the first time they played with a piano or a band. They're doing that a little earlier now, so they'll have to do that much better during Hollywood Week."
The idea is to ferret out singers who don't have the tools to play with other musicians. Michael, along to accompany the hopefuls said, "I saw a girl yesterday tank in the audition. She had an OK voice, but not one ounce of rhythm. When we went to sing an uptempo song, I was all over the place — I couldn't find where she was. I'm not the best pianist, but I know how to follow anybody."
"There aren't a lot of real-world situations where people are singing a cappella," Harry, an accomplished piano play himself, said. "They've usually got something going on behind them."
In their quest to find talent wherever they can, the producers literally pulled a dude out of a coffee shop to sing in front of the judges. He got a ticket to Hollywood. Although, the singer said it was his idea, I would not be surprised if it was some pre-planning involved. The idea that Nashville is a place where talent can be found lurking ANYWHERE as artists pursue their dreams, is an obvious narrative I can imagine a producer cooking up.
Kory Wheeler, a barista at Bongo Coffee said, "I was making small talk [to an American Idol producer] while I was making coffee and said, 'You know, it'd be a really cool story if you let me come audition, They did. And here I am."
With FOX executives blaming Idol's ratings doldrums on the lack of "compelling" contestants, Harry offered his opinion on what makes a contestant somebody you want to see every week on your TV.  It's "an intangible, mysterious thing." he said, "And what makes them compelling in an audition room in Nashville may not work in the Idol stage, and it's almost impossible to know."
Season 6 alum, Melinda Doolittle, pretty compelling herself when she competed season 6, was on hand Monday to cheer on the hopefuls.
The USA Today story provided some numbers: Richmond, a stop on the Bus Tour drew 6,000 hopefuls, while Nashville, a big city stop, attracted 4,000.
While you ponder those figures, check out some sights and sounds from the Nashville auditions. Via American Idol Tumbler
Harry Connick Jr. schools Ryan Seacrest on how to ask Jennifer Lopez for a high 5. Jlo denying Ryan's attempt is pretty funny. Not attempting-to-give-Scott-McIntyre-a-high-five funny. But still.
The first 4 hopefuls of the day wait to audition. Notice the photos of the Idol winners in the background!
Ryan Seacrest kicks things off in the holding room.
'
Keith Urban is Looking Forward to American Idol 14 auditions
Photo Gallery