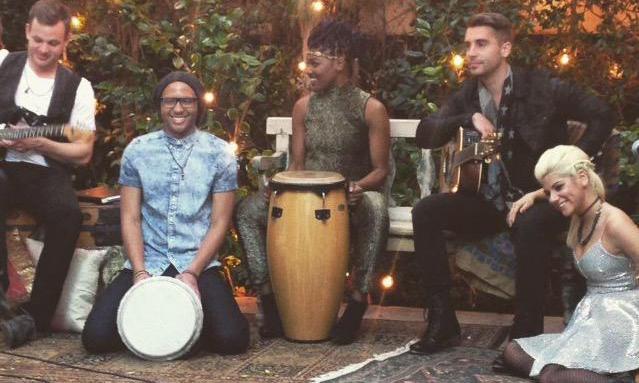 Mac & MJ present their Top 5 Power lists for your consideration. Leave your thoughts in comments! American Idol airs Wednesday at 8/7c PM on FOX. The contestants sing two songs this week, one song that captures their soul (I am what I am/Soul Songs) and the other a nod to one of the judges hometowns. (Nashville, New York or New Orleans).
MAC: 1) Clark Beckham: I know there were rumblings that a dark horse might take over this week, since Clark was just "meh", but I think most Idol winners have had "meh" performances before. Unless Clark has put on the brakes, and disappoints till the end of time, he's still the front runner. I'm beginning to think we might have a very tough finale, between Clark and Nick, who really both fit the demo, but more on that later. Right now, Clark is destined to potentially outsell Caleb Johnson.
MJ: 1) Clark Beckham – "Yesterday" didn't land, but I thought Clark's bluesy Boyfriend was solid. He did nothing last week that would jeopardize his rank. I still think he's going to win this thing. He can see Nick coming for him in his rear view mirror, but it will only make him work harder, which is actually a good thing.
MAC: 2) JAX: While I feel like Nick is making a huge effort, Jax had White Flag. I mean, White Flag, yo. YO DAWG. Sorry for the Randy response, but Jax just reminded everyone why they were voting for her. Since no one votes by actually dialing a number, "vote splitting" is no longer a thing. Therefore, it is actually possible that Clark and Nick, who both clearly share some kind of demo, make the finale. Because you can assign 20 points to any contestant. Personally, I've been assigning points to multiple contestants each week, with some of them getting 20 votes instead of me just giving 20 to one person. I have a feeling I'm not in the minority with my voting.
MJ: 2) Nick Fradiani – I put off moving Nick into the #2 spot until I saw how he did last week. The current narrative clearly has him as the singer who is peaking at the right time. In his video packages, he comes across as a guy who has his eyes on the prize. The producers don't want Clark just waltzing off with this thing, and who could blame them?  Nick has always been consistent. The difference is that he's found his groove and his focus.  Clark is a religious southern white boy. The typical Idol champion. If Nick wins, he'd be the first winner from the North East. With the ability to power vote pretty much eliminated, could Idol history be made? I think in the end, Clark's soulful vocals will win the day.  Note: As far as having two singers from the same genre in the finals? In season 10, I remember predicting Lauren Alaina's imminent demise week after week, because vote splitting wouldn't possibly allow an all country finale. Boy did I look stupid. ETA: Nick and Clark aren't identical in terms of genre, but they appeal to the same people. They are two guys who play versions of Hot Adult Contemporary pop/rock.
MAC: 3) Nick Fradiani: I'm starting to realize that it doesn't matter if Nick is the top performer or not. He's just consistent enough to never go home, and gets his audience excited with the easiest of performances. But honestly? Harder To Breathe? Not great. So, at the end of the day, if Nick sneaks into the finale, Clark will beat him. Clark's song choices are consistently better, and has a much higher chance to wow the voting base.
MJ: 3) Jax – And I think we have our Top 3. "White Flag" was great.  But these big moments for Jax are too few and far between. Inconsistency is not going to propel her to the top.  Viewers love Jax when she's sitting behind the piano, belting a heartfelt ballad, but not so much when she's running around the stage playing punk princess, or completely re-arranging a recent pop classic. She's been accused of being inauthentic, but I don't think so. The punker, the balladeer, the bluesy rocker are all different facets of her eclectic artistry. She's willing to take risks that don't always pay off.  We're watching a young artist still in the process of figuring it all out.  An exciting place to be, but not great for winning a singing competition. Viewers gravitate to artists who know who appear to know who they are.
MAC: 4) Tyanna Jones: I know Tyanna was probably the weakest link this week, but I still think Rayvon is done. Tyanna will luckily get another week. Party In The USA wasn't a great performance, and she doesn't have enough strong performances to even really be a contender for the finale.
MJ: 4) Rayvon Owen –  We actually DON'T know if Rayvon was the lowest vote-getter every week he performed for the twitter save. I suspect last week, he was not. These last two spots are iffy. It's really going to depend on performances. If Rayvon serves up another "You Were Always On My Mind" I think he'll be safe. The big question is, does he need the fear of elimination to energize his performances? We'll find out. For now, I'm going to declare him safe again. ETA: I think I was delirious when I wrote this last night. The twitter save is over. Tomorrow night's performances won't affect the outcome of the vote. Rayvon's "You Were Always on My Mind" was pretty terrific, and could actually save him this week. His twitter save song, "Go Your Own Way" was pretty much a train wreck though.
MAC: But we do know hes consistently in the bottom 2, and Tyanna has never been in the bottom. For all we know, Tyanna might be leading the votes. But we know for sure that Rayvon isn't.
MAC: 5) Rayvon Owen: Rayvon made the tour, and that should be good enough for him. The problem with Rayvon, as pointed out by others, is that people already feel like they voted for Rayvon in the twitter save. Motivating them to vote again, isn't happening. People actually have to vote for Rayvon, and then remember to also vote for him on Google (or wherever). That explains why he's had super strong performances, and still been in the bottom. I think he'll finally go home this week.
MJ: 5) Tyanna Jones –  If Tyanna delivers a couple of great performances, she could finally send Rayvon home. If she nails that Beyonce song she's set to sing, she could very well be heading to back home for a celebration next week. Forget the top spots. The big race this week will be between Rayvon and Tyanna. Who will stay and who will go? Tyanna's "Heaven" was boring and pitchy. "Party in the USA" was fun, but didn't show off her vocals. I think she's in danger this week. Still, I wouldn't be entirely shocked of Rayvon finally got the boot.
MAC: Without a twitter save? Rayvon will leave this week. I'd bet my right shoe on it.