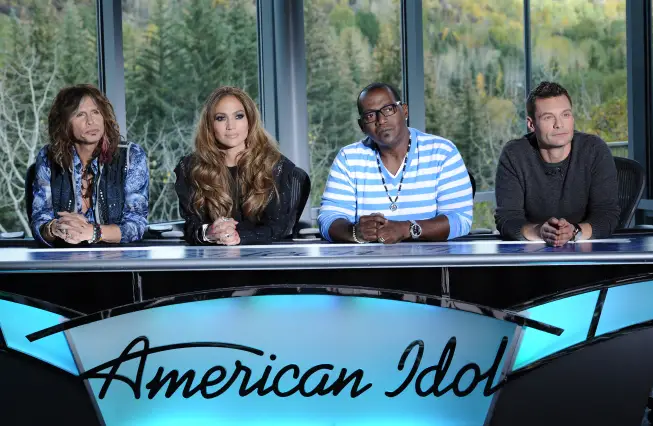 The American Idol judges, Randy Jackson, Jennifer Lopez and Steven Tyler were in Aspen, CO Wednesday and Thursday to audition golden ticket holders from last summer's Denver, CO cattle call.
Nigel Lythgoe tweeted late Wednesday night, "We're in Aspen today with #Idol. It's quite beautiful The talent, however, fell a little short today. Hopefully it will be stronger tomorrow."
It looks like he got his wish, as the judges panel, assembled together for an afternoon press conference, told reporters that the 2nd day's contenders were "on fire." While 13 contestants advanced Wednesday, a dozen had advanced by early afternoon Thursday, with more yet to  audition.
On a scale of one to 10, Randy ranked Wednesday's group of contestants as a 5 and Thursday's group as a 7.
"I feel we have a ton of talent for this season, " Said Jennifer, who revealed that three of Thursday's performers were among the best the panel has seen.
Randy said to expect a variety of genres when Idol Season 11 begins in January. "There's something of everything going on, " he said.
The influence of soulful singers like Adele and the late Amy Winehouse is also apparent, according to Jennifer. "We're definitely seeing more jazz — that type of voice, " she said.
Also, according to Ryan, there were a couple of "hippie chicks" who had a kiss for one of the judges. Gee, I wonder who that could be?
Next, the crew heads to San Diego for the last of the Judges' Rounds.
FOX Report below: