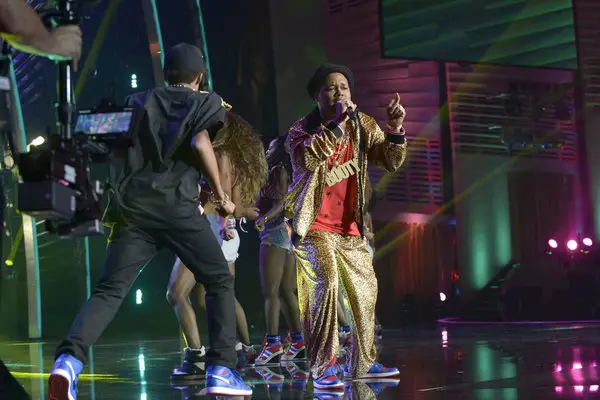 It's another live installment of AGT at 9 EST tonight, when 12 more acts will try to earn one of the slots going to the next round. Then tomorrow night, in a show containing more filler than Lisa Rinna's lips, we will learn which four passed muster.
Our choices this evening include a couple of comedians, two sword-swallowers, several dancers, an assortment of singers (including one precocious child), and that team of synchronized swimmers.  As the ads tell us, "the talent is fierce." They must be referring to the guy who sings the booty song.
We begin with our usual breathless recap of last week and some intro to tonight's acts, all crammed into the space of a minute and punctuated by Nick screaming. Tonight's he wearing a pale green suit with an orange shirt and purple pocket hanky. Wardrobe by the Oompa Loompas.
Innovative Force, a large acrobatic dance group of young girls who don't know how to pick a memorable name, leads off the show. The huge Radio City Music Hall stage impresses them, since they are small-town girls, and probably had to order their glittery, low-cut Spandex outfits from the Sodom and Gomorrah. They begin their act clustered together in a heart shape and red-lit, thrumming as one like the live organ. Is this dance a tribute to cardiology?  Possibly, since they proceed to start leaping, flipping, and swinging each other around in a manner that would make a heart patient drop dead. It all resembles one of those extreme cheerleader competitions, only with a more dramatic soundtrack and sequins stuck to their faces. The judges admire it, especially since nobody became a paraplegic during the performance.

Innovative Force, Top 60 performs ~ AGT 2013 by HumanSlinky
Next comes a 12-year-old singer from Hawaii named Ciana Pelekai, a name that resembles the Scrabble letters I drew in a recent game. She dreams of becoming as big as Beyonce and naming her child Orange Blossom. Dressed for a game of formal basketball in shorts, hightop sneakers, and a sparkly headband, she sings Emeli Sande's Next to Me, a song too old for her. The performance earns a standing ovation. Howie says it's "the year of youth," as if there were ever a year of the elderly.

Ciana Pelekai, Top 60 performs ~ AGT 2013 by HumanSlinky
Incidentally, I looked up something on Amazon THREE WEEKS ago and the ad is still chasing me around the internet. Knock it off, algorithm, I've moved on.
Thousands of designs came in for the Snapple cup competition. An ugly one won, probably submitted by a producer's nephew. The same one who designed this set.
Now for our first sword swallower, Alexandr Magala. He's from Moldavia, where life is wretched, so naturally people shove sharp implements down their throats to improve their situation.  Tonight Alexandr's adding to his act, not the missing "e" from his name, but an even more dangerous element–fire. More dangerous than pushing a sword into your esophagus? You can throw water on a fire. He climbs his pole, lights some kind of firecracker thing, and starts swinging around the pole with it. Then, to ensure the ladies who are not impressed yet, he rips off his shirt before sliding a sword down his throat and performing some acrobatics a little clumsily. Howard tells us that during practice, Alexandr cut himself and couldn't eat for two days. Well, the Wheat Belly regime is really hard; maybe this is the way to go.

Alexandr Magala, Top 60 performs ~ AGT 2013 by HumanSlinky
Up next is Struck Boyz, a bunch of obnoxious little boys from Staten Island who dance. They are convinced this gig will attract a lot of girls, but they might want to reconsider their excessive use of hairspray. They bounce all over the place, roll around, and kick a great deal. Mel thinks they have passion and commitment, but I suspect it's more for YouPorn than their dancing. Howard is critical of their technique. He will die in a tragic "car accident" within the next few weeks.

Struck Boyz, Top 60 performs ~ AGT 2013 by HumanSlinky
Brad Byers is another "dangerous" act. Insert Carlos Danger joke here. He lives on a  farm in Idaho, where he humbly hauls hay, rides horses, and chews straw. But he craves the thrill of the perilous. You'd think the economic situation for farming in America would be scary enough for him. On stage, he holds up a box fan, sticks his damn tongue in it, and stops the blades. As if we are not sufficiently grossed out, he then strips off his shirt to reveal a torso that looks like a "before" photo posted at Alexandr's gym, then lies down on a bed of nails. After stage hands bring over a curved platform and place it across his body, a guy drives an ATV over him. Brad appears to faint. But he gets up to reveal little pindots of blood all over his back. Nick reminds us not to try this at home, which makes you wonder where people considering it would go to get their own beds of nails and curved platforms. Apparently, it was Brad's childhood dream to have an ATV drive over him while he lay on a bed of nails. He must be a fun date.

Brad Byers, Top 60 performs ~ AGT 2013 by HumanSlinky
Moving on, it's Kid the Wiz, who does that act where he flips his hat all over the place and it lands on his head or wherever. Dancing keeps him off the streets, he tell us, which is confusing since he's a street dancer. He messed up last time, so he's under special pressure tonight. Up close, you can see he's got red tape over whatever logo is on his hat. He couldn't find a plain red one? Points off just for that lack of initiative. The problem with this performance is not just that he dropped his hat again, but that that was the most exciting moment in his act.

Kid The Wiz, Top 60 performs ~ AGT 2013 by HumanSlinky
There's going to be a nationwide AGT tour! With all your favorite acts. Don't get excited, they mean the acts from this show.
Now comes Forte, the opera guys who assembled their group willy-nilly by connecting online. They sing There's A Place for Us, wearing green, burgundy, and blue velveteen jackets, although only one has a dress shirt while the other two have gray tees. That's what happens when you decide on your wardrobe online. Standing ovation for either the song or the jackets. Mel is the only judge who doesn't like it, but it's not like she knows anything about music.

Forte, Top 60 performs ~ AGT 2013 by HumanSlinky
Angela Hoover, the impressionist, is next. She left the biz for a while to raise her kids. Now that they're all messed up, she can go back to the stage. She leads off with Mel and Heidi impressions, which is like shooting fish in a barrel. Then there's a kind-of Christina Aguilera joke that finishes inexplicably with the theme from The Jeffersons, and it's all over for her. Heidi gives her some great ideas to  make fun of her more effectively. Howard did not think she was good "because you have been a housewife for so long." He's not a good judge because he has been a jerk for so long.
The next act is Dave Shirley. He combines comedy with technology to create a whole new performing style, so he quit his job to pursue it. But he still has to put his kid through college and pay his mortgage. This 90 seconds is make-or-break time for him, and that makes him cry, as this foolishness makes the rest of us cry. His act uses similar screens as tellAvision, except he stands behind them to make his top or bottom half appear to be dancing in tandem with him. Was he a member of Obama's cabinet or a neurosurgeon? Because otherwise he should have been able develop this act on occasional Sunday afternoons. However, his package hit all the emotional touchpoints!

Dave Shirley, Top 60 performs ~ AGT 2013 by HumanSlinky
Now we get Marty Brown, the ringer singer.  They give him the ol' Tex-and-the-City treatment in the package, where he's riding the subway with his guitar slung across his chest and marveling at the dazzling Times Square sights from under his cowboy hat. He sings Still the One triumphantly, but ouch, something's seriously off. Apparently, he was all choked up because they showed his daddy's pickchur. Understandable, as that's how seeing Nick's suit makes me feel.

Marty Brown, Top 60 performs ~ AGT 2013 by HumanSlinky
The synchronized swim team Aquanuts–which sounds like a snack food–is up now. They don't touch the bottom when they stand on their heads, which means they're not actually standing on their heads, but okay. They perform on a rooftop pool in their high heels,  sequinned swimsuits, and sparkly headbands. It also appears they are wearing leggings. It's like a good part of their act consists of jumping in the pool with prohibited clothing on. Next performance, they'll pee in there.

Aquanuts, Top 60 performs ~ AGT 2013 by HumanSlinky
Now for the final act. This time it's emotionally deadening, instead of uplifting. Tone the Chiefrocca has got one song to his name, a gold tracksuit, and a giant gold necklace that says BOOTY. "B-double-O-T-Y," he raps enthusiastically, while a car bounces behind him and a line of scantily clad girls prance. Heidi calls it a one-hit wonder. It's a wonder alright.  Howie says people complain that this does not represent an hour-long show, but he insists they are not looking for that–they are looking for talent. I submit that this is not talent either. Tone screams incoherently as the credits roll, possibly giving us a preview of his next performance.

Tone The Chiefrocca, Top 60 performs ~ AGT 2013 by HumanSlinky
We'll learn which of these performers earned most of America's votes tomorrow night.  Let's hope Magala gets some time until then to put some ointment on his esophagus.