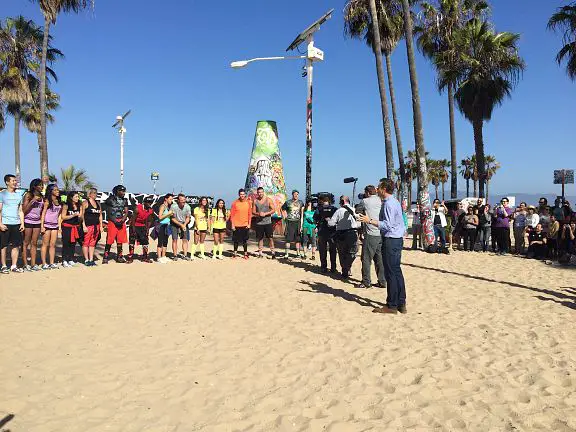 Amazing Race 27 Cast Spoilers
On Thursday, The Amazing Race 27 cast began their television journey from Venice Beach, California. The kick off was public. Fans were encouraged to show up and watch as host Phil Keoghan saw the teams off.
Shortly thereafter, CBS revealed the 11 teams taking part in the latest race around the  world. Because of course,  they would have leaked anyway!
After completing their first challenge, the teams headed out to their first destination, Rio de Janeiro.
The dating twist from the previous season has been put aside, for couples who have "pre-existing relationships." The teams are the typical mixture of dating and married couples, family members, friends, etc.
There's some fun stuff on the Amazing Race Facebook page. A group of past winners were on hand to see the teams off, including the very first winner of the race, and a season 26 winner, Laura.
Notable pairs include:  A couple of TMZ staff members. That's one way to garner publicity. Even if it's on the icky side. There are also a couple of dating couples who are news anchors and paparazzi, respectively. It's an interesting mix of media types with the potential to clash.
Ernest Phillips and Jin Lao – Brothers from Boston
Denise Williams and James Earl Corley – Mother and son from Prattville, Ala.
Cindy and Rick Chac – Newlyweds from San Diego, Calif.
Alex Manard and Adam Dingeman – cousins from Chicago and Des Moines, Iowa, respectively
Justin Scheman and Diana Bishop – Engaged couple from Philadelphia
Jazmine Lewis and Danielle Littleton – Athletes from Los Angeles
Tanner Kloven and Josh Ahern – Best friends from Dallas
Kelly Berning and Shevonne Sullivan – TMZ editor and post production supervisor, respectively, from Los Angeles
Kelsey Gerckens and Joey Buttitta – Dating news anchors from Santa Barbara, Calif.
Logan Fazio and Chris Gordon – dating paparazzi from Miami Beach, Fla.
Tiffany Chantell Torres and Krista DeBono –  friends from Hoboken, N.J., and Staten Island, N.Y., respectively
The new season of The Amazing Race premieres Friday, Sept. 25 (8:00-9:00 PM, ET/PT), on the CBS Television Network. Phil Keoghan (@PhilKeoghan) is the host. Additional details will be announced at a later date.