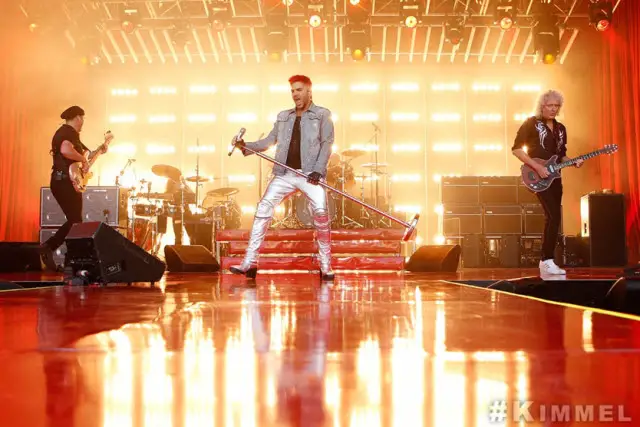 Adam Lambert tempted fans via social media with the promise of NEW MUSIC coming soon. And they didn't have to wait long! The American Idol season 8 alum premiered the tune, "Two Fux" with Queen during the band's Jimmy Kimmel Live concert in Hollywood Thursday (June 22).
NEW MUSIC IS COMING Adam teased in a 12 second clip early Thursday morning, revealing June 30 as the drop date.
NEW MUSIC IS COMING. pic.twitter.com/TZAq6dwQ5o

— ADAM LAMBERT (@adamlambert) June 22, 2017
Later in the day, Adam shared the track name, "Two Fux" with a bit more of a preview and a cute graphic. "Namaste right here" the singer declares!
#TWOFUX out 6.30.17 #namasterighthere pic.twitter.com/8JPPjzTnys

— ADAM LAMBERT (@adamlambert) June 23, 2017
But the wait for the full song wasn't long. Just a few hours later Adam performed "Two Fux" on the Jimmy Kimmel outdoor stage with Queen. "This song is dedicated to Freddie himself," Adam shouts in tribute to the late Queen singer, Freddie Mercury. Indeed, the song could have been a track on a Queen album back in the day–fun, irreverent and melodic.  And a sublime Brian May guitar solo. Check it out here.
And from the Jimmy Kimmel Live broadcast here's Queen + Adam Lambert (Guitarist Brian May, Drummer John Taylor) performing the band's classic hit, "I Want it All." The band kicks off their worldwide tour Friday night (June 23) in Phoenix Arizona.
https://www.youtube.com/watch?v=QZLSHWMOndA
***