TOP 9 perform disco classics. Nile Rodgers and Chic will also perform.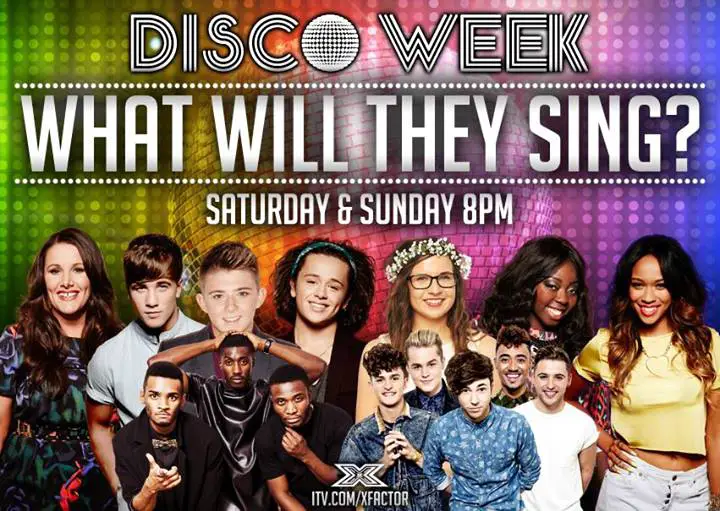 ---
HOW TO WATCH X FACTOR UK LIVE ON THE INTERNET
Please post working live feeds as you find them in the comments. Some feeds are posted on TVPC (United Kingdom/ITV1).
ITV streams the show HERE, but you have to pretend you are in the UK. Use free UK VPN service. Make a VPN connection, use the server, username and password given on the site. Password changes every day, so bookmark the link for future use.
More free UK VPN: UK IP VPN, GET UK VPN, UK NEW FREE VPN, VPN FOR UK.
If the ITV Player asks you for your postcode, find some valid ones (UK) on the internet. EXAMPLE.
---
Disco week. In the past few seasons, this theme was replaced by more current "Club Classics" theme that allowed more contemporary songs. S4W5 and S5W4 had a Disco week. S7W9 had a Club Classics, S8W5 Dancefloor fillers, S9W3 Club Classics again.
This year, we are back to Disco. In general it looks like this year TPTB are pushing for more older music and safe, well known song choices. After season 9 they decided to try and get older viewers back from Strictly Come Dancing. Also, last year karaoke and cheesy singer Christopher Maloney won the first 7 weeks of televote and ended up 3rd in the final after lots of major PR attacks in the media. I guess TPTB concluded the viewers want the show to be more boring and safe. However, the ratings are not going through the roof. And sadly, things won't get better anytime soon because next week is a Big Band week.
Check out the song spoilers for tonight HERE.
For the first time this season, Saturday's performance show will have a musical guest: Nile Rodgers and Chic.
---
Apparently, FLASH VOTE was AXED to make time for Nile Rodgers and Chic performance.
Nile Rodgers and Chic are on stage as the announcer introduces Dermot O'Leary. Dermot dances down the stairs and is followed by the judges. And now the performance from Chic! I guess TPTB are trying to get people in the mood. This definitely isn't the regular performance night schedule! The judges are dancing behind their desk.
It's 8:11pm GMT and we are going to the first commercial break.
Luke Friend – Play That Funky Music (Wild Cherry)

Luke identifies himself as acoustic singer-songwriter. Disco isn't his thing.
So, Luke has a band on stage. This actually sounds and looks pretty good.
Sharon: You are the dark horse in this contest!
Gary: I thought I'm gonna haite this, but within 5 seconds I loved it!
Nicole: Who knew this is the week .. We always knew your hair was, but now we know how funky you are!
Louis: I think you are a dark horse, you are a star, you are a little Johnny Depp!
Dermot confirms, Flash Vote is axed!
Kingsland Road – Blame It On The Boogie (Michael Jackson & The Jacksons)

The boyband will concentrate on dancing this week. Gary shows them some old Take That videos.
Well, that was some DANCING. I think it was a fine performance all in all.
Nicole: I love the energy, you always give 100%. However, those mike stands. You come out a bit too planned, a little too perfect, break free a little bit more!
Louis: Visually it was fantastic, you still need to work a little bit on your vocals, but I think you will stay in the competition!
Sharon: Get that "we don't want to be in the bottom 2" look off your faces!
Gary: Don't be so serious …
Souli Roots is in the audience. Too bad she didn't make it to the lives!
Tamera Foster – Wishing On A Star (Rose Royce)

She doesn't know anything about disco, so Nicole took her and all other acts to roller disco.
Wow, huge hair. Weird arrangement. I don't really like this.
Louis: Everytime I see you, I think STAR. I love song choice, vocal was amazing, I think you will go far in the competition.
Sharon: That was a lovely performance, so controlled!
Gary: That was so beautiful, very classy, well done!
Nicole: It was so creamy and dreamy, it was so good.
Sam Callahan – Relight My Fire (Dan Hartman, also covered by Take That & Lulu)

Sam visits his friends in his local football club. Oh, Sam scores!
Boxing ring? Gary watches the performance with open mouth. This isn't a great vocal performance. Gary will have to say a thing or two …
Sharon: You always put so much into your show! You really want it bad, don't you? You just love to do what you do and you gave a good performance!
Gary: I hated that performance. You vocals were very exposed, you are not the best singer in this competition and everyone else is so much better than you.
Nicole: You have so much charisma, but that song exposed your weaknesses. I want you to dance more, not sing!
Louis: You gave 100%. Gary, it was a little bit harsh because you covered that song!
More Discussion: Gary says Sam is a pop singer, not a rock singer and needs suitable songs… Sam defends himself … Oh, that was a mess.
Rough Copy – September (Earth, Wind & Fire)

Gary wants them to get their "street" mojo back. During the week, Gary went to Afganistan to perform for the troops, so he and the boys Skyped.
Well, that was a fine performance, but there was nothing "street" about it.
Nicole: Boys, … that was le freak .. chic. You did disco, but you did it your own way. You made it your own!
Louis: You know how to put on a show! We need this band on the show! There has to be a place for you on the charts!
Sharon: Your performances are all so effortless! Your dressing room was next to mine yesterday, I heard you singing for two bloody hours!
Gary: Performance of the night!
Abi Alton – I Will Survive (Gloria Gaynor)

In her VT, Abi is a total wreck.
Anyway, Abi will suck the life out of "I Will Survive" tonight. She is playing the piano and singing a slowed down version of the song. The song is completely unrecognizable. Not a great vocal performance.
Louis: You were definitely out of your comfort zone with this theme, but you picked a great song!
Sharon: That was a very brave choice. You are a very brave girl and i bow down to you.
Gary: No one knows who you are better than you. Well done.
Nicole: You grabbed disco by the balls …
Nicholas McDonald – Rock With You (Michael Jackson)

So this is the week for Nick to show his fun side?
Ugh, Nick looks super uncomfortable on stage. He sings well, but this just isn't his kind of song. He looks kinds defeated? Nick + this song = not a good match
Sharon: Nicholas, I love you so much, I want you to put you in my pocket! That was fantastic!
Gary: Nicholas, some youth at last, well done! It was really good!
Nicole: I love your voice. This week is disco, it's not just about singing, it's about grooving. Other than that, I loved it!
Louis: You've got the X Factor and I believe in you!
Sam Callahan and his family backstage with Caroline Flack. He says he is no Celine Dion. They say this show isn't The Voice.
Hannah Barrett – Somebody Else's Guy (Jocelyn Brown)

Nicole arranged James Arthur's visit for Hannah. He says you can still win even if you hit the bottom 2.
Wow. Wow. Hannah is starting the song a cappella and she is basically screaming! The second part is uptempo.
Louis: You came back fighting! I don't know why you were in the bottom 2, but I'm glad we saved you!
Sharon: Hannah, finally you are smiling! You always look like you smelled something nasty! I'm so glad you are here this week!
Gary: That is how to come back fighting for your life! Welcome back!
Nicole: Nobody puts my baby in the corner!
Sam Bailey – No More Tears (Enough Is Enough) (Donna Summer & Barbra Streisand)

Sharon took her to a spa this week. Sam doesn't want to look like a mum on stage, she wants to look like a popstar.
Sam belts out the song. And kinda looks like a mum on stage?
Gary: Sam is a ballad singer in the competition, I thought you were gonna struggle, but I was wrong.
Nicole: I'm worried for your husband!
Louis: I love the makeover! Yummy Mummy
Sharon: Not just vocal performance of the night, but the presentation!
The public vote is now open!
UH UH UH …
Two BIG X Factor exclusives in Sun on Sunday tomorrow – next year's judging panel revealed and shock contestant romance @TheSunNewspaper

— Dan Wootton (@danwootton) November 2, 2013
---
A tale of two teens: Hannah Barrett stuns the judges with an incredible X Factor comeback, while Sam Callahan's Take That cover is slammed on Disco Night
The last three weeks of live shows have inevitably showcased teenager Hannah Barrett's powerful vocal range.
Having found herself in the bottom two as Movie Week reached its third act. the teenager was on song with an incredible rendition of Jocelyn Brown's Somebody Else's Guy.
'That is how to come back after being in the bottom two fighting for your life,' raved Gary. 'What a great platform that was for you to showcase your voice – welcome back.'
Read more: Daily Mail
She's a (disco) diva! Nicole Scherzinger opts for huge hair and a VERY low-cut dress on The X Factor
She's no stranger to being labelled a diva.
But Nicole Scherzinger was a disco diva on The X Factor on Saturday night, in every sense of the title.
The 35-year-old singer opted for huge curly hair and a sparkling low-cut dress to mark Disco Night on the ITV competition.
Read more: Daily Mail
Did someone say ratings? Nile Rodgers and Chic open Disco Night with a medley of hits as X Factor bosses ditch the flash vote in favour of live acts
Its introduction divided fans of the show, but after an experimental three week trial the controversial flash vote was ditched by X Factor bosses on Saturday evening as Disco Night kicked off with an added twist.
Indeed, while the flash vote was laid to rest so too was the expected group performance, with the opening five minutes of the show given over to a medley of disco classics from Nile Rodgers and Chic.
The legendary guitarist has enjoyed something of a renaissance of late thanks to his collaborations with French duo Daft Punk, and he enjoyed a rapturous reception on Saturday night as his band launched into disco classic Freak Out.
Read more: Daily Mail