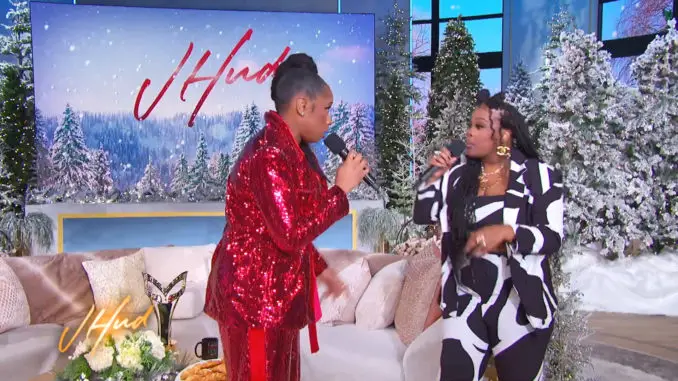 Amber Riley, the newly crowned The Masked Singer winner dropped by The Jennifer Hudson Show to chat about Amber's experience as the Harp on Masked Singer, her time playing Mercedes Jones on Glee and more. The two joined forces to sing an epic duet of "(And I Am Telling You) I'm Not Going" from the Broadway musical Dreamgirls.
Jennifer Hudson, American Idol season 3 alum, famously won an Oscar for her role as Effie White in Dreamgirls, while Amber played the part on a West End stage in London. During Amber's Dreamgirls stint, Jennifer just so happened to be in the city appearing on The Voice UK's coaches panel, and made a point of seeing Amber play the role.
Also, funnily enough, The Masked Singer judges Robin Thicke, Jenny McCarthy, Ken Jeong and Nicole Scherzinger are constantly naming Jennifer as a guess for various Black female soul singers. Ken, in particular, was adamant until the end that Jennifer was Harp. Of course she wasn't!
Keeping in mind that some folks mix the two singers up, Amber and Jennifer started the duet from behind the Christmas trees as a "guessing game" for fans. Kinda like The Masked Singer, but without masks!
"I get to…be triumphant…for those stories"
As far as playing Effie, Amber said she became very close to the character and knows all too wall about being kept from the spotlight. "I feel like doing things like Masked Singer, doing things like Dancing with the Stars, I get to…be triumphant…for those stories."
Besides winning The Masked Singer, she and pro-partner Derek Hough won Dancing with the Stars in 2013.
In the clip, Amber explains how she started out in showbusiness as a "ghost" singer, fixing vocals for pop stars who couldn't quite hit the notes. Oops!
Watch Amber talk about "ghost" singing before she and Jennifer join forces for an epic duet.
Jennifer presents Amber with her The Masked Singer Golden Mask Trophy
In another clip Amber talks more about winning the Masked Singer as The Harp, the first musical instrument costume on the show. Ken insisting she was Jennifer was flattering for Amber. She loved the comparison.
Appearing on the Masked Singer became an item on Amber's bucket list after she and her mom, also a singer, watched the show during the COVID-19 pandemic.
Additionally, Jennifer had a BIG surprise for Amber, presenting her with the official Golden Mask Trophy!