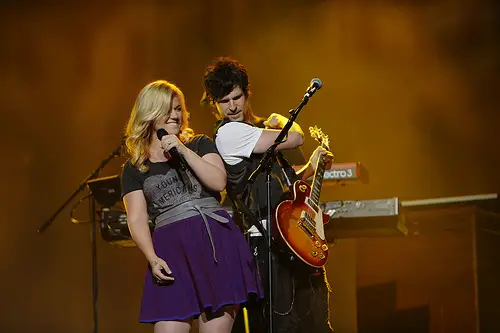 The big Walmart Shareholders Meeting took place this morning at headquarters in Bentonville Arkansas. Candice Glover, the current American Idol, already performed on Wednesday morning for an untelevised gathering. But that doesn't mean there were NO Idols representing at the meeting!
The 4 hour presentation was hosted by Broadway and movie star, Hugh Jackman. Tom Cruise made an appearance. And there were performances from X Factor UK runner up, Jahmene Douglas (his Walmart job was part of his backstory) and American Idol alums, Kelly Clarkson and Jennifer Hudson. I threw in John Legend's performance just because!
Jahméne Douglas – The X Factor UK runner up sang Coldplay's "Fix You" and Emile Sande's "Next To Me." With a Gospel choir, natch. Those of you unfamiliar–check it out. You might like his soulful sound.
John Legend performed "Tonight (Best You Ever Had), a new song "All of Me" and "Ordinary People"
Kelly Clarkson sang "Stronger (What Doesn't Kill You), "Don't You Wanna Stay" and "People Like Us." Kelly met Tom Cruise backstage!

kellyclarkson-wm by mjsbigblog
Jennifer Hudson closed the show with "Gone", "Spotlight" and her big show stopper, "And I Am Telling You."