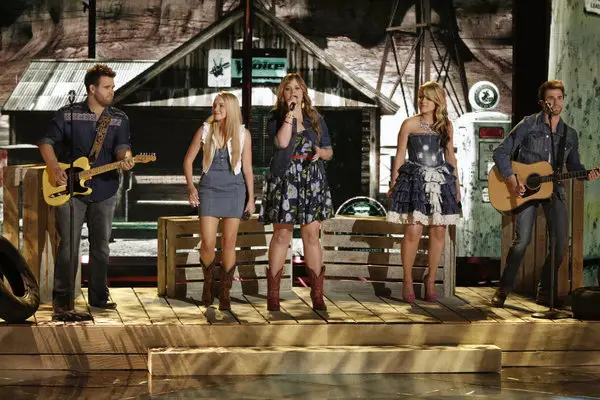 Two finalists will be sent home tonight on The Voice Top 8 results show. Who will it be? Let's examine the numbers. Also POLL RESULTS and iTunes rankings.
The iTune Rankings
Danielle Bradbery wins the iTunes derby once again! Can anything stop this girl? I'm thinking maybe not. She's a good bet for the finals.  I'm not sure if her top 10 placement made the 10 am deadline–the close of voting–that would give her a 10x vote bonus.  Either way, she's GOLDEN.
Also doing well again this week, is Michelle Chamuel whose nerd rock is sweeping the nation! Will if it isn't it should be.  And, as we all figured, Amber Carrington made an iTunes comeback this week with her dramatic performance of Skyfall.  The question is: Will Adam ever allow her to sing a country song again?
The lone boys left in the group, The Swon Brothers, are hanging in there this week, midpack, but I think their status as cute boys (well, OK, maybe only one, but I bet Zach has stans. You know it) who can sing reasonably well will keep them in the game. Sarah Simmons solid a decent amount of iTunes, considering her performance last night was underwhelming. Does she have people?
That Holly Tucker and Judith Hill are in the bottom 3 doesn't surprise me at all. Holly may be in trouble this week. How much you wanna bet she whips out the Jesus card again next week if she makes it through? And Judith. Her iTunes don't sell well, but she's obviously got people voting for her. Sasha Allen at the very bottom is a complete shock to me.  Actually? I'm stumped.
10. Danielle Bradbery – Team Blake – Grandpa (Tell Me 'Bout the Good Old Days)
13. Michelle Chamuel – Team Usher – Grenade
23. Amber Carrington – Team Adam – Skyfall
32. The Swon Brothers – Team Blake – Seven Bridges Road
44. Sarah Simmons – Team Adam – Somebody That I Used to Know
53. Holly Tucker – Team Blake – Done
70. Judith Hill – Team Adam – #thatPOWER
77. Sasha Allen – Team Shakira – Without You
Poll Results
The clear winner of the favorite performance poll is Michelle Chamuel's "Grenade" with 36% of the vote. Amber Carrington's Skyfall is next with 21% of the vote. Danielle Bradbery is third with 14% of the vote.  And in a huge departure from the iTunes rankings, Judith Hill comes in 4th with 9% of the vote.  Sasha Allen's "Without You" is fifth here, rather than last with 8% of the vote. Holly Tucker's Done is dead last with 3% of the vote.
Click to View Full Poll Results
Your favorite Group Performance was the Diamonds cover by Michelle Chamuel, Judith Hill, Sarah Simmons and Sasha Allen. It garnered a hefty 63% of the vote, while Something More, featuring Danielle Bradbery, Amber Carrington, Holly Tucker and The Swon Brothers earned 36%.
Thirty-five percent of you predicted that Holly Tucker will hit the road tonight, followed by Sarah Simmons with 22% of the vote. Judith Hill is 3rd with 15% and Sasha Allen 4th with 12%. The Swon Brothers are in 5th place with 11% of the vote.  Amber, Michelle and Danielle earned less than 3%.
Predictions
I am going to confidently predict that Holly Tucker will be heading back to band practice after tonight's show.  The second eliminated contestant is a little tougher to predict.  I think The Swon Brothers will continue to be the remaining male presence in the competition for at least another week.  Sarah Simmons was terrible last night, but look at the iTunes she sold. I think she's got people and will be safe. That leaves Judith Hill and Sasha Allen in the danger zone.  Will Shakira lose her last remaining contestant tonight? It could happen. But I'm leaning towards Judith Hill for three reasons. 1. She performed first in a two hour show.  2. She sang the wrong song. 3. She wore a crazy mohawk, which on Idol at least, tends to spell doom.
Leaving Tonight
Holly Tucker
Judith Hill or Sasha Allen