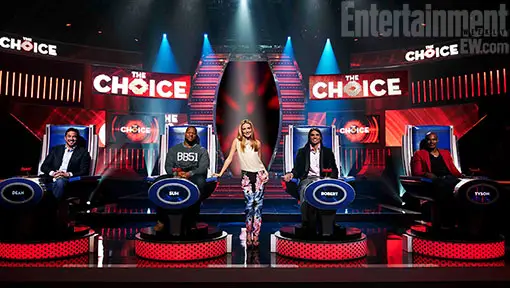 I was hoping I wouldn't have to go near the new FOX dating show, The Choice, with a 10 foot pole, but I guess I'm screwed!
FOX announced the cast of celebrity bachelors and bachelorettes, and amongst folks like Joe Jonas, Dean Cain and Rob Kardashian is….Season 5 American Idol winner Taylor Hicks.
Yay?
The premise, according to EW: " In each episode, four celebrities sit in spinning chairs and listen to non-famous prospective dates pitch themselves. Over the course of three rounds, the contestant pool is paired down until each celebrity has chosen their date for the evening. Five of the episodes will feature male celebrities; one episode puts women in the power seats. The contestants were unaware who the celebrities were until moments before they went on stage…"
The Choice will be hosted by the sublime Cat Deeley. That's a plus! It will be paired with Fox's other new dating show Take Me Out on Thursday nights starting June 7.
So this is what FOX sacrificed the So You Think You Can Dance results show for? Oy. At least we'll get Cat Deeley two nights in a row…
Did I mention that I hate dating shows?  At least it's not a competitive reality show, so we'll only have to pay attention to the episode that features Taylor.  Check out the full list of celebrity participants below.
MEN
Pauly D
Tyson Beckford
Joe Jonas
Dean Cain
Rob Kardashian
Rocco DiSpirito
Warren Sapp
Finesse Mitchell
Romeo
Jeremy Bloom
Jason Cook
Michael Catherwood
Seth Wescott
Parker Young
Ndamukong Suh
Dr. Robert Nettles
Taylor Hicks
Mike Sorrentino
Rob Gronkowski
Steven Lopez
WOMEN
Carmen Electra
Hope Dworaczyk
Rima Fakih
Sophie Monk