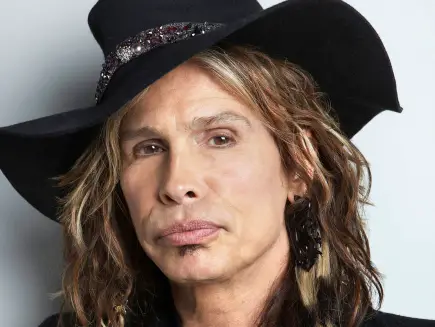 UPDATE: Holy Shit. That was the craziest thing I've ever heard.  Really, no words to describe the last 25 minutes of my life.  Steven Tyler is CERTIFIABLE, and I kinda like it!
The phone call was so crazy, I can't imagine a transcipt I would type would even make sense. He didn't always answer the questions asked. Insane tangents GALORE.
So, I'm going to do something I don't normally do.  Here's an audio of the conference in all of it's insane glory.  Listen and then tell me…are you looking forward to Steven Tyler as judge on American Idol? I know I am!
Steven Tyler will be taking reporters questions today via phone conference!  I'll be listening in and recapping the highlights here:
I can hear him yakking in the background as the conference chick introduces the segment! LMAO
DARLINGS HOW ARE YOU!  Says he's just having lunch.
He's ready….still yakking.  "How many people are on this call?"  But the PR peeps aren't ready yet.
Now he's telling dirty limericks. "There once was a man from Kent, who had one so long…I will not go there…"
Time for the first question.
Had no time finding his identity on the panel, but says  judging young kids is difficult, "they all have a voice." It took him a couple of minutes to get into that role.  Doesn't take his personal stuff onto the judges' panel like "some other people might have."
Will start working with Aerosmith this weekend in Los Angeles–to begin writing the next record. Says recent press reports, American Idol getting in the way of Aeromsith "aren't so".  They will tour this fall.
Not going in there to be a harsh or overbearing judge.   Says he's bringing his "Italian…I know how to work a room, Aunt Phyllis honesty…"  Says he's judged the hell out of himself.
Jlo is a fox and street and has a big heart.  Claims the team will bring camaraderie nobody has seen in TEN YEARS.
We've got are Top 40–we're ready to go. (did he just confirm the Top 20 has not been chosen yet?)
Made some harsh comments the first week. The kids "snapped back, said whataya mean. I only did two of those.  I couldn't say 'you were no good' without substantiating why."
On being 1 year sober: He has no regrets. He's a grateful recovering addict.  Says he's proud of his "marks and my faults and my scars."  Things have been good. He's always ready to take it up a notch.  "It used to be my frivolity, but now I'm addicted to adrenaline. I still like a good challenge." Idol is with the best people, with the best network.
"Someday I'll have my own show called 'Different type of survivor…I don't know what…they'll put me in a barrel and throw me in the ocean. It'll be called 'Message in a Bottle'."  He's ready for anything.
Will he bring a rock element to the show? Hasn't heard a lot it. Acts have to go through "the worm hole"–layers of producers. "For every act I brought along that I thought was great, the next week after they were given the wrong song in the wrong key and we had to drop them…that's the beauty of the show and the heartbreak."
Says there's one kid who has "a rock element about him."   He's "totally off the wall."  He's got hopes that he makes it through, "His voice is ridiculous, it's so crazy and great. I hope he can stretch out and use the voice that I heard."
"I've got a good ear for all types of music."
"Not all great singers make great rock stars. Some of the voices that aren't the best make the best rock stars."
"I don't take it too seriously, but I take it seriously. It's been a real hoot for me."
He's not bringing "grumpiness" to the table. He's taking what the kids give him and cutting it up in three different pieces. "Can they sing? Are they on pitch? Do they have character? Do they have a star quality about them?"
His life as a "road dog" colored his opinions in the past of those who didn't "go through the club and didn't walk the gauntlet. "  He's listening to the kids, regardless.  If they're good to begin with, he's hoping to see that. He came up through the club scene, but he won't judge the kids for not paying their dues.
Gave props to singers who paid their dues in church. Some of them have a "great sense of blues or time or melody."
Steven has more than a 1 year contract. Would not elaborate past that.
He met Randy first "Randy was the shit". They got on in the 1st 5 minutes, like they were separated at birth. They have so many similarities…know all the same people. "How we hadn't met before was beyond me."  Saw "Backup Plan" on the plane, and fell in love with Jl0.
Favorite Idol? He's been following Carrie Underwood, and likes Kelly Clarkson. Yeah them!
The side we see on Idol is as if there were reality cameras in his house. Rather than the dark bigger than life rockstar–what his fans may be used to–he gets to be more honest, open and vulnerable as an Idol judge. If the Aerosmith fans don't like that…oh well.
In the 7 weeks of auditions, he got about 15 'Don't Want to Miss a Thing' renditions.  He's singing Pink!  When someone sang DWTMAT and he didn't like it, Steven felt "a little ill at ease" to tell them "you didn't really sing it good."
OK, now he's saying "We're down to 20 great people."
That was the craziest conference I've ever participated in. Seriously.