Steven Tyler
and
Carrie Underwood
are set to perform live on CMT Crossroads on Saturday February 4 at 11 PM Eastern on CMT. Check out rehearsal clips & interviews after the jump. Carrie & Steven talk about Idol, collaborating, their experiences performing at the Super Bowl, and Steven talks about his much discussed performance of the Star Spangled Banner at the AFC Championship game.
Carrie & Steven want you to watch them perform live on CMT Crossroads on Saturday!
UPDATE: HQ rehearsal footage, and Carrie & Steven talk about each other via NashvilleCountryClub:
http://www.youtube.com/watch?feature=player_embedded&v=cFa5x76eD-s
Check out the purple streaks in Carrie's hair! Steven and Carrie talk about how rehearsals are going, how Carrie will use those spikes on her jacket to keep Steven in line, and Steven talks about his experience doing the Super Bowl halftime show with thoughts on how Madonna is preparing.

Carrie's asked about the possibility of another collaboration between Steven and her. She says her album's pretty much done but she thinks they'll collaborate again. Steven says he loves a good song so if the opportunity arises, he'll tell his record company to stuff it (in more colorful language!) if they say it'll get in the way of the band's album. Steven also talks Idol, saying he A listed 22 contestants he really dug this year compared to 12 last year, but it's up to the voters to see who they like.

In this Associated Press interview, Steven says of Carrie:
"I just love to sing and I love her stuff. A good friend of mine writes songs with her. When I heard 'Undo It,' I said, 'What is that?' That is an Aerosmith song, right? I am going to finish recording that with you. He said, 'No, I wrote that with Carrie, it is coming out in a week,'" he said. "I met her and it was all over after that, once I looked into her eyes. She opened her mouth and sang and she is that good. I loved singing with her."
Here's a cap of an interview segment on this morning's Fox & Friends courtesy CUHQVIDEOS. SPOILER ALERT: There's rehearsal footage of Steven & Carrie singing "Before He Cheats" (which was to be expected) and…a mashup of "Dream On"/"Just A Dream"! That's a surprise. Steven also defends his national anthem performance at the AFC Championship game is colorful language.
Look out for more interviews today with Entertainment Tonight, E!, and Extra. Check out a twitpic via ET's @XTina_McLarty of Carrie & Steven goofing off with her: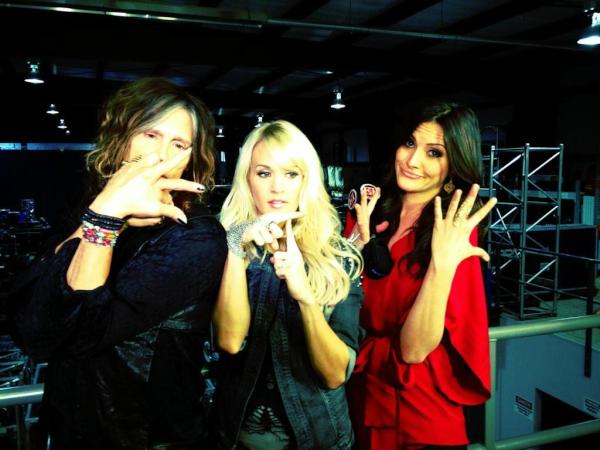 More pictures (credit: Rick Diamond via Wireimage and CountryMusicIsLove)