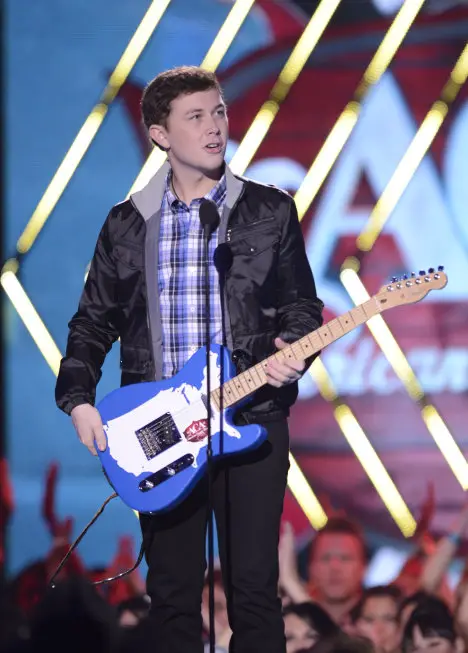 Scotty McCreery, American Idol season 10 winner, nabbed his second ACA Award Tuesday (Dec 10) for Breakthrough artist of the year. Watch Scotty accept his award, plus more details about the award and Scotty's reaction, below.
Scotty McCreery Wins Breakthrough Artist Award at American Country Awards Tonight's Award Marks His Second ACA Trophy

Scotty McCreery won the Breakthrough Artist of the Year award tonight at the American Country Awards, which broadcast live on Fox from Las Vegas.

McCreery won in the Breakthrough Artist category that included Lee Brice, Hunter Hayes, Randy Houser and Justin Moore.

"It is awesome!" McCreery says. "It is really cool. We have had an incredible year and we are really trying to take it to the next level, so to win the Breakthrough Artist award is really special. I am really honored to win this award.

"Of course, I have to thank the fans. This is a fan-voted award and I have the greatest fans in the world! I owe everything to them and will never be able to thank them for all that they've done for me. "

McCreery's 2011 debut album, Clear As Day, was certified platinum for sales of one million in just 13 weeks. The first two singles from that album were each certified gold. In 2012, his Christmas album was also certified gold. He was named Top New Artist by Billboard and won best new artist awards at the Academy of Country Music Awards and the CMT Awards.

McCreery's new album, See You Tonight, recently debuted at No. 1 on the Billboard Country Albums chart, his second consecutive studio album to do so. See You Tonight remains in the country albums chart's Top 10, and the title track's video is ranked No. 1 on GAC's Top 20 Country Countdown.

In 2011, McCreery won the New Artist of the Year Award at the American Country Awards, which was the first time that he was a nominee or winner at a country music awards show. "I will always remember that one especially, because it was my first one," he says. "It's really cool to have another one."

McCreery recently performed live in front of his hometown crowd at the historic Carolina Theater in Durham, N.C., for a special concert for Yahoo Music's Ram Country Live!. The live- streamed concert, which is followed by an accompanying select video-on-demand feature to allow fans to experience a taste of the live magical night again, can be viewed beginning Wednesday at the below link:

http://music.yahoo.com/video/playlist/ram-country-live/

Details on McCreery's appearances, including his upcoming See You Tonight Tour, can be found at cottyMcCreery.com.