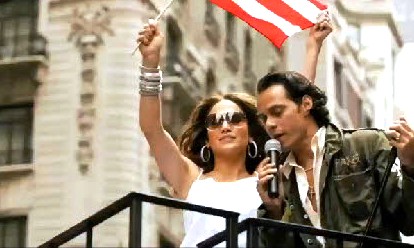 Idol creator, Simon Fuller, presents a new show featuring Idol judge, Jennifer Lopez and her husband Marc Anthony.
¡Q'Viva! The Chosen, will feature Jennifer, Marc and "tour director-to-the-stars Jamie King traveling to 21 countries across the Americas, searching for the "world's most extraordinary talent."
The trio will head to "places people wouldn't normally look, where all of this rich talent lives and wouldn't normally be discovered, " says Jennifer.
"This is less about competition and more about finding great talent, cultivating that talent, putting it on stage and giving it to the rest of the world, " says King.
"With this show we hope for the first time to unite all of the Latin cultures and make something that makes everybody proud, " says Jennifer. "This is like me being able to really, really go, 'I am Latina, and this is who we are! Isn't it fabulous? Isn't it amazing? Doesn't it bring tears to your eyes and make you want to dance and smile and jump and stay up all night?' "
The talent the trio finds in the clubs, bars, dance studios, underground dance halls and festivals in villages, towns and cities in Latin America will be brought back to Hollywood to be mentored by the stars to create "the ultimate live show."
The show will be filmed in three languages and broadcast simultaneously on leading TV networks across the Western Hemisphere. The search for the talent begins in July.
Via People Magazine
Watch the preview below