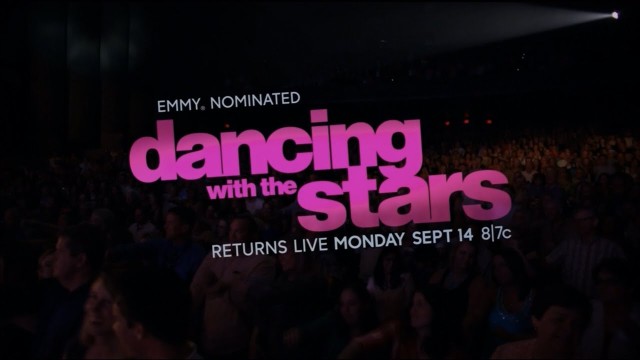 Dancing with the Stars returns on Monday with a 2 night event. The pairs will perform on both Monday and Tuesday and at the end of each night, a pair will be eliminated. Double elimination!
In "Hometown Glory" night, each couple will dance two new dance styles to songs that remind the celebrity and pro dancer of the places that shaped who they are today. LIVE on MONDAY, SEPTEMBER 21 (8:00-10:01 p.m., ET), couples will dance to a song that commemorates the celebrity's hometown. At the end of the night, the couple with the lowest combined judges and viewer votes from last week will be eliminated.
Need a recap of last week's show? Check out last week's recap, which includes performance videos, judges scores and leaderboard.
LIVE on TUESDAY, SEPTEMBER 22 (9:00-11:00 p.m., ET), the couples will dance another dance to a song that the pro dancer has chosen that reminds them of where they grew up. Another couple will be eliminated on Tuesday night based on the combined judges' and viewer votes from Monday night.
Spoilers so far via PureDWTS. Dances are ordered Monday-Tuesday
Alek and Lindsay – Jazz and Quickstep
Alexa and Mark – Salsa and Rumba
Andy and Allison – Jive and Contemporary
Bindi and Derek – Tango and Waltz (?) (Bindi danced with her father to one of the songs)
Carlos and Witney – Cha Cha and Fox Trot
Chaka and Keo – Foxtrot? and Salsa?
Gary and Anna –
Hayes and Emma –
Kim and Tony –
Nick and Sharna – Jive and Foxtrot
Paula and Louis – Rumba and Tango?
Tamar and Val – Salsa and Charleston
Victor and Karina – Jive and Rumba
Hosted by Emmy® Award-winning host Tom Bergeron ("America's Funniest Home Videos") and Erin Andrews (sports host & "Dancing with the Stars" Season 10 finalist), "Dancing with the Stars" is the hit series in which celebrities perform choreographed dance routines which are judged by a panel of renowned ballroom experts including dancer/choreographers Bruno Tonioli, Carrie Ann Inaba and ballroom dancer and Emmy® Award-winning choreographer Julianne Hough.