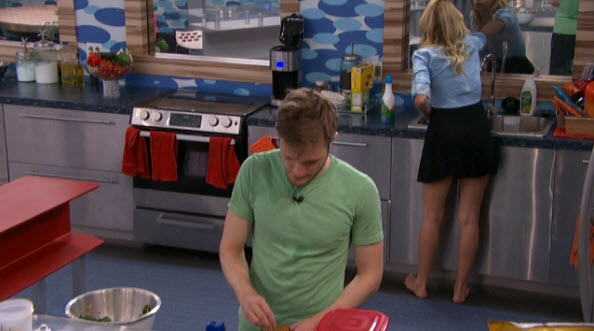 Big Brother 17 Spoilers Week 11 Nomination Results
As expected, HoH Steve nominated Liz and Austin for eviction. Neither were blindsided–Steve gave them both a heads up earlier in the afternoon. Liz was livid, lapsing into her usual mean-girl thing of curing and name calling, saying she should have evicted Steve when she had a chance. This is Austin's first time on the block. He acknowledged it was his time, and is handling it maturely.
In private, the Austwins also wondered if they made a mistake keeping John instead of James, because it's really clear that he's working with Steve (Eh. James would have tried to split the Austwins up too. It's amazing how they've made it this far intact).
What added insult to injury for the twins–they had a deal with Steve and he made them both swear on their families. When they brought that up to him, Steve said he didn't remember saying anything like that (Uh. He said it).
After the nominations, Liz cried, Steve was alternately freaking out in front of the houseguests and celebrating by himself in the HoH room.  Steve believes he made a BIG MOVE that will guarantee his place in Big Brother history. The delusion is strong on this one.
The only hope the Austwins have now is for Julia to win veto, take down Liz, and campaign successfully to keep Austin safe. It's going to be tougher than it appears. Vanessa wants to Steve to convince Julia not to use the PoV if she wins, by promising Liz and her safety. Steve pointed out that Julia has no incentive to take the deal. They'd be safe in any case (Julia would be an idiot to go for that.)
Austin appears to be the target right now. But Vanessa Steve doesn't seem 100% sure of whom to evict at this point.