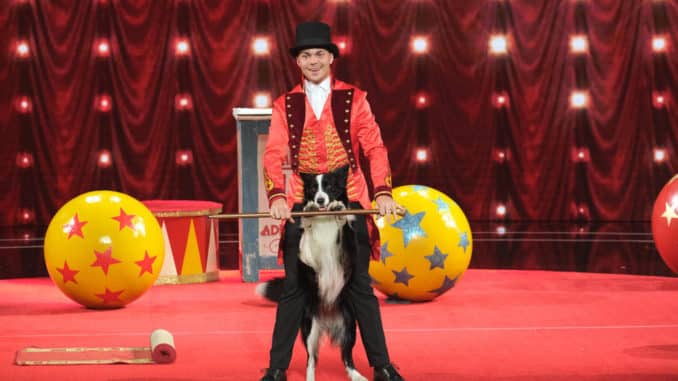 Watch the first 10 minutes of Tuesday's America's Got Talent featuring dog act Lukas and Falco. The four week round of Judge Cuts begins this week (July 16) with country singer Brad Paisley sitting alongside Simon Cowell, Howie Mandel, Gabrielle Union and Julianne Hough at the judges table.
The guest judges have the Golden Buzzer, which allows them to advance one act immediately through to the next round. As far as what he's looking for in an act, Brad says, "I want to see a person that has a gift to give humanity." He adds, "And they're going to walk out here and it's like…we needed that and we didn't even know it."
America's Got Talent Judge Cuts 1 Spoilers: Which Acts Will Perform?
America's Got Talent 2019 Top 10 BEST Auditions (VIDEO)
When Does America's Got Talent Live Shows Start? Season 14 Schedule
Simon explains how the Judge Cuts will work, "Basically there are 18 acts we selected…we're expecting to step up," he continued, "Seven out of the 18 go to the Dolby [theater] live shows, which is a huge deal."
Lukas explains that each of the acts performing have already impressed the judges once, so it's really going to be hard." Aw, Falco is turning 10 and getting ready to retire. He still seems like a pup! The two do a routine based on Simon's favorite movie The Greatest Showman. They perform fun tricks with a circus theme. There's juggling! Simon smiles all the way through the perfomance. He loves his puppers. That is one cute dog.
Howie noted that Lukas did more tricks than Falco. Gabrielle felt he stepped it up. Julianne believes he has something really special.  Simon said, "You couldn't have done more to make me love this act." He added, "I'll be fighting for you."
America's Got Talent airs Tuesday at 8 pm ET/PT on NBC.
https://youtu.be/64PXNILgU58