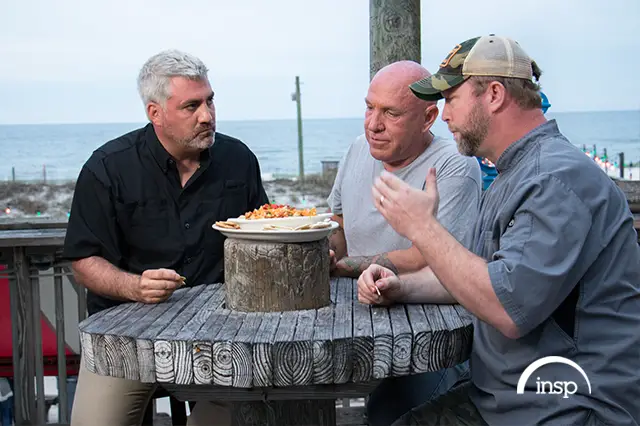 L-R Hicks, Capt. Ringo (Fishing Guide) and Chef Chris Sherrill from the Flora-bama Yacht Club.
Taylor Hicks will once again host State Plate for the family-entertainment network INSP. The second season season of the well-received original series will premiere Friday, August 11 at 8:00PM ET, as part of the "Destination Fridays" programming block.
"Our goal is to cover ALL fifty states," said Doug Butts, SVP of Programming at INSP. "And we are well on our way. Season two of State Plate will feature even more of the foods we've come to know and love as part of America's cultural history. Thankfully, there is no shortage of stories to tell."
Stops this season include the legendary Flora-Bama and Hick's own restaurant, Saw's BBQ! By the end of the second season of State Plate, the show will have featured more than 180 iconic foods; everything from crab cakes in Maryland and peaches in Georgia; to chili in Texas and potatoes in Idaho. As he makes his way from coast to coast, Taylor visits farms, ranches, markets, festivals, and other diverse and unusual locales. In the process, viewers share in the journey as he uncovers the rich details behind each state's unique food traditions. It's a heaping helping of America's most beloved cuisine, rich in history, folklore, and flavor.
I actually have this show scheduled on my DVR. If you are a fan of food and destination shows, I recommend State Plate. Taylor's enthusiasm and curiosity as he explores the cuisine of states across the USA is appealing.
Taylor Hicks on State Plate:
*All episodes will air on INSP at 8p ET and feature a different state each week
Aug 11 Alabama
Aug 18 Mississippi
Aug 25 Vermont
Sep 1 New York
Sep 8 Missouri
Sep 15 Iowa
Sep 22 Minnesota
Sep 29 South Dakota
Oct 6 Pennsylvania
Oct 13 Maryland
Oct 20 Oregon
Oct 27 Washington
Taylor Hicks on tour:
Aug 19 Orrville Lions Rib & Music Fest, Orrville, Ohio
Aug 26 Oxford Performing Arts Center, Oxford, Ala.
Sep 30 Franklin Theatre, Franklin, Tenn.
Oct 21 The Palace Danbury, Danbury Conn.
Nov 14 BB King Blues Club, New York, N.Y.
Dec 08 Red Rock Casino Resort, Las Vegas, Nev.
Dec 09 Blue Water Resort & Casino, Parker, Ariz.
Dec 10 The MIM, Phoenix, Ariz.