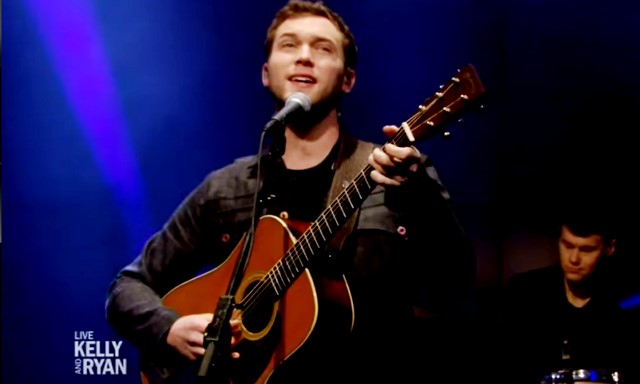 Watch Phillip Phillips perform his touching wedding song "Dance with Me" on Live with Kelly and Ryan. The American Idol season 11 winner is currently on tour promoting his new album, Colateral. The singer will perform in Philadelphia tonight (Feb 13).
"I wanted to write a song for our first dance," Phillip explained about why he co-wrote the tune. When the band played the song for the first dance at his wedding to Hannah Blackwell, she "cried like a baby," Phillip said.
However, there was no shortage of tears at the special event. "I cried like a baby during the wedding. She didn't cry at all!" Phillip said. "She was like 'This is my moment I'm looking flawless' and I was just like saying the vows and I was just crying! And then we got to the first dance and she was the one crying and I was like 'This is my moment'"
Ryan and Phillip, both Georgia boys, reminisced about their time together on American Idol. "I miss spending every week with this guy!" says Ryan, who hosted the show. "This guy's awesome," gushed Phillip.
Watch Phillip Phillips perform "Dance with Me" right here.