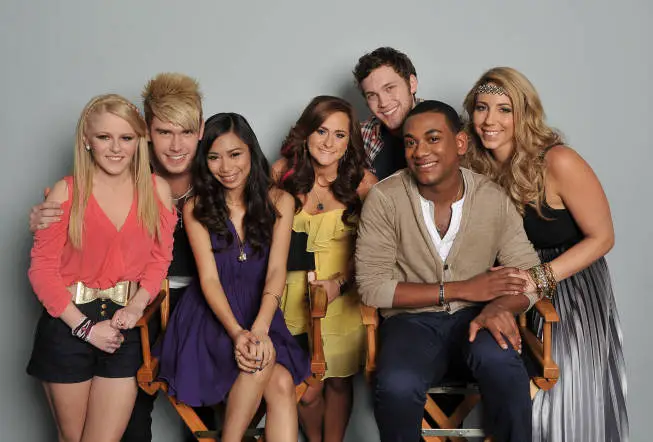 UPDATE: Nigel Lythgoe tweeted: "I love the Gotye song. It makes a great duet on #AmericanIdol this week. How wonderful and ironic that we're doing 2 Kelly Clarkson tracks!"
TWO Kelly Clarkson songs? OY. And the Goyte song "Somebody That I Used to Know" is also being covered on Glee this week.
Enough of us bitched at American Idol executive producer, Nigel Lythgoe, that he finally gave us a modern theme. The kids will be choosing songs from this decade. That means tunes from 2010, 2011 and 2012.
Here's my wish list of songs for the Idols to sing. What's yours?
Hollie Cavanagh – Skyscraper by Demi Lovato – Hollie should go back to ballads this week, and concentrate on really delivering it.
Colton Dixon – "Without You" by David Guetta/Usher – I can imagine Colton going all angsty on this.
Jessica Sanchez – "1 + 1" by Beyonce – A little too obvious? Probably. Still, she'd kill it.
Skylar Laine – "Back to December" by Taylor Swift – I want Skyler to outsing Taylor on her own songs. I would enjoy that.
Phillip Phillips – "The Cave" by Mumford and Sons –  So perfect for P2.
Joshua Ledet – "Grenade" by Bruno Mars – Bring your passion, Joshua–but leave the gospel choir backstage.
Elise Testone – "Shake it Out" by Florence + the Machine – This song could mark the return of Queen Elise!