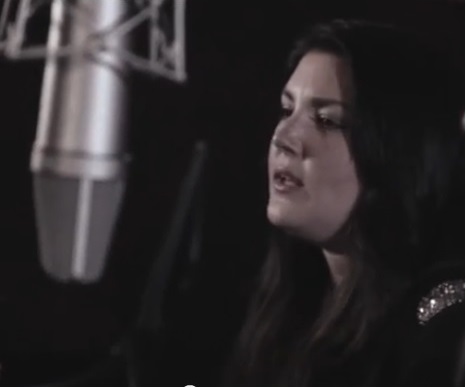 American Idol Season 12 runner up Kree Harrison has been keeping busy with music since her season ended, and she has finally begun rolling out some of the new music she's been working on since last year. This past weekend, Kree returned to the Grand Ole Opry and debuted a new original song she cowrote with Maren Morris and Brett Tyler called "Your Whiskey." Check out full audio of her set via Kree's Kreeper, which also included Kree's cover of Patsy Cline's "Faded Love." "Your Whiskey" is a lovely aching ballad that showcases the wistful country cry in Kree's voice:
Today, Kree debuted another new tune called "Strong & Silent," which she cowrote with the artist known as Fancy Hagood and songwriter Kate York, on Idol Insider on VEVO. "Strong & Silent" brings Kree's signature contemplative vibe to a love song that talks about the comfort a stormier personality finds in the more stoic tendencies of the one she loves.
http://www.youtube.com/watch?v=PuPNv6CJ_p8
In the interview accompanying the song, Kree talks about her current focus on songwriting and says she is getting ready to make a full album. The climate for women at country radio hasn't gotten any better in the past year, when the uphill climb for females was cited as a reason Kree wasn't signed by UMG Nashville. Though there's probably more fan, media and industry discussion about this being a problem now, major Nashville labels still seem spooked about signing new female talent. Still, with representation as a writer by performance rights organization BMI and at least initial support from 19 Management, Kree has performed several times at the Grand Ole Opry and honored the Judds at last September's ACM Honors. She has also been performing at a variety of songwriter festivals, including the Key West Songwriters Festival put together by BMI, which started today. Kree can also be heard singing background vocals on her friend and much-acclaimed artist Kacey Musgraves's current single, "Keep It To Yourself."
It's not clear whether Kree still plans to shop her new music to a label for distribution, but the good news is, artists have other options these days too. Kree's kept herself visible within the Nashville songwriter community, has no shortage of support among her peers, and there's no doubt the Opry will welcome her back when she's ready to promote her new music.
In the meantime, Kree has connected with some of Nashville's top hitmakers. In addition to the songs posted, she has cowritten "You Can Count On Me" with Chris DeStefano (a frequent Idol collaborator who has written with alums like Carrie Underwood, Kelly Clarkson, Haley Reinhart, Lee DeWyze, and Kris Allen), and Catt Gravitt (who cowrote Jana Kramer's t5 hit "Why Ya Wanna" with DeStefano and Ashley Gorley and also cowrote Jake Owen's #1 hit "Alone With You"). Kree has also cowritten a tune called "Hard To Move" with Tom Douglas (one of Nashville's best songwriters, who cowrote the modern country classic "The House That Built Me," which was recorded and released by Miranda Lambert) and Zac Maloy (who cowrote "Temporary Home" with Carrie).
In her StageIt show from a couple months ago, Kree talked about saving performances of her new originals until she's ready to release a new album, but she did perform a couple of her pre-Idol originals:
video via sapphire
Set List
"P's & Q's" (a pre-Idol Kree original)
"Dream" (Everly Brothers cover)
"Tennessee Waltz" (Patti Page cover)
"You Would've Wanted It That Way" (a Kree cowrite with Trent Dabbs and Natalie Hemby)
"9 to 5" (Dolly Parton)
"Evidence" (Susan Tedeschi cover)
What do you think of Kree's original tunes, and are there any in particular that stand out to you?