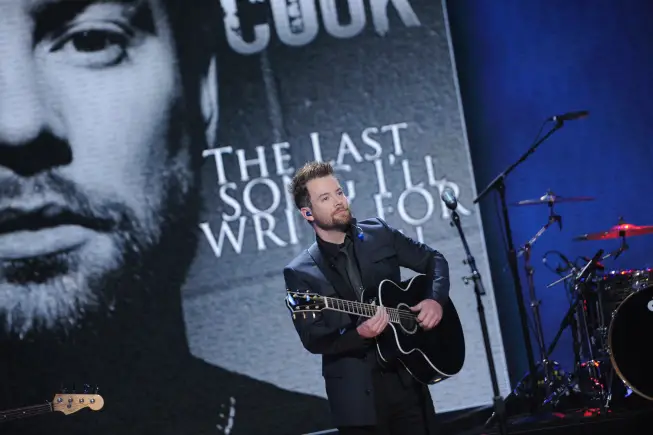 Shirley Halperin of the Hollywood Reporter is back stage at the American Idol results show, and she just confirmed with David Cook that he is without a record deal.
Wow, @thedavidcook just confirmed: he's without a record deal. New song is self-released and the road ahead is wide open…
The song David has self-released is his new single, "The Last Song I'll Write For You". The season 7 Idol winner performed the new tune on Idol tonight. Watch it here.  David's vocal tonight was superb!  He's managed by Simon Fuller who gave David the opportunity to promote his self-released single on Idol.  Whatever David's next step is…good luck to him!
ETA: David's deal with RCA was up after his second album, This Loud Morning.  "It just felt like the time to try something different," he tells THR. "I love the creative control, so we're going to self-release and see what happens from there."
"We're just going to keep doing what we're doing. If someone wants to hop on board and get behind it, then great, let's talk about it. I just love making music and however I'm gonna do that is however I'm gonna do that. But if I keep writing songs like this, hopefully things will turn out OK." The Hollywood Reporter

David Cook live on American Idol 2012 Results by HumanSlinky