Carrie Underwood is one busy lady these days as she headlines a 55 date North American arena tour and continues to promote her platinum-certified 4th album, Blown Away. Her Behind The Music will debut on VH1 9/30 and will be followed on 10/2 by her VH1 Unplugged special (which includes her cover of Coldplay's "Fix You"). VH1 has released a bunch of clips from Behind The Music, including an introductory clip from VH1's Behind The Music with high quality footage from Carrie's Reading, PA tour stop.
There are several shorter clips covering the 1st time she met her husband Nashville Predators center Mike Fisher, how Mike proposed, how Carrie's mom reacted to her youngest daughter getting married, and how Carrie coped with dating in the public eye. In the last clip, Carrie reveals an injury she had suffered prior to the season 4 Idol finale that she had never discussed until now (she was on Idol in the days Nigel wasn't leaking DRAMATIC HEALTH CRISIS information to TMZ). Bo Bice sighting in that last clip!

Meanwhile Carrie is 2 weeks into her Blown Away tour. Having seen the show myself last Thursday, it's definitely the visual and audio treat Carrie promised. Carrie and her team put a lot of thought into a set list that flows. The show, like the "Blown Away" video, casts Carrie as a modern day Dorothy swept up by a tornado and taken into an unknown world of adventures as depicted in Carrie's songs. She ain't in Kansas, I mean, Checotah anymore. There's recurrent Oz imagery throughout the show, like the Emerald City backdrop during "I Told You So" (which sort of parallels Dorothy's dissatisfaction with home and then desire to go back once she landed in Oz) and the hot air balloon stage ride Carrie and a few of her bandmates take around the arena (a reference to one of the ways Dorothy tried to get home).
The 22 song set list (which includes a medley of 2 songs) ranges from twangy pop-rockers to traditional country and includes 9 songs from Carrie's current album. Carrie and her team are very savvy in how they present the new material, recognizing it'll be the least familiar to the more casual fans in the audience. Several of the new songs are performed on the hot air balloon stage resulting in extra audience engagement, another new song is the occasion for a duet with Carrie's opener Hunter Hayes, and another new song is partly used as a band showcase and an opportunity to introduce her very talented band members. The moving video screens and lighting are used to create environments on stage, culminating in an on stage tornado for the concert's final song.
The Blown Away tour has 5 acts (and 4 costume changes) as you can see from this set list snagged by @BuffyBurton: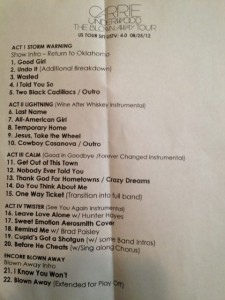 Check out selected video highlights from the tour below:
Intro/"Good Girl" via countrymuzcfan
http://www.youtube.com/watch?v=VSGBhSCqKOU
"I Told You So" via ange8507

"Two Black Cadillacs" via ashleyann427

"Temporary Home" via Patrick Gear

"One Way Ticket" (on floating stage, featuring beach balls and leis) via flyinfree33

"Leave Love Alone" (with tourmate Hunter Hayes) via flyinfree333

"Remind Me" (with surprise guest Brad Paisley in person!) via maddkat11 Note: You can see Carrie tearing up over Brad's surprise visit in the vid. Country Aircheck reports Carrie had been told Brad couldn't make the show because of West Coast commitments including the Iheartradio show in Vegas the previous night but, he secretly went out of his way to fly back to Nashville anyway. Aw! He really is like a big brother to Carrie.

"I Know You Won't" via Patrick Gear

"Blown Away" via countrymuzcfan
http://www.youtube.com/watch?v=RS8UzDMMPM4&feature=plcp
Highlight reel from the full concert (25:33 long)

You can also check out official HQ photos from the 1st couple of shows plus some official video clips here.
To find out where Carrie will be playing, check out her tour dates HERE.