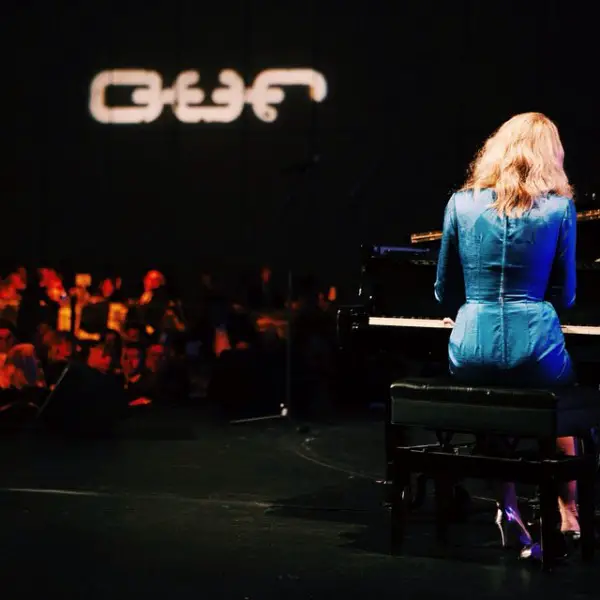 American Idol season 7 alum, Brooke White, announced a new project! The singer started a crowdfunding campaign via Pledgemusic, to raise funds for a charity album.
Click for details and to donate!
Lullabies and Happy Songs will raise money for O.U.R.–an organization dedicated to stopping child sex slavery–and feature guest artists, including fellow season 7 Idols, David Archuleta and Carly Smithson.
Check out the message Brooke posted to her Instagram.
Big News I've been so anxious to share, so much info but here's the bullet points:

1.) I'm making a new record! It's called #lullabiesandhappysongs! But wait it's music grown ups can dig too! Yay!

2.) It is a collaboration record! Yay! Each song is written + recorded w/rad & amazing artist such as: @mindygledhill @leighbirdnash @davidarchie @deanatunes @cseefried @thesilverseas @thejackandwhite @lucyschwartzmusic, John Hanson & Carly Smithson

3.) This record is especially special because it has a VERY IMPORTANT purpose! I'm using the proceeds to raise money on #Pledgemusic for an amazing charity called #OUR (Operation Underground Railroad)

4.) O.U.R is a brave proactive charity org. that goes into targeted locations w/jump teams & rescue children who are kidnapped, lured, brainwashed, & sold into the horrific bondage of Sexual slavery. OUR then places them in safety + rehabilitation. There are over 100,000 child sex slaves in this country alone. Over 2 million world wide. This is real, it is what moves me to action. So much more I have to say about it all (on my blog)

5.) Foundation Entertainment, a generous company I worked with on for that movie "change of plans" has so kindly given me $20K to do something charitable!!! I searched and prayed for the right charity for 6 months, which led me to find #OUR. So grateful!

6.) $20k is a great start and will fund 1 rescue mission, in past missions they've rescued nearly 20-30 kids at a time! BUT I'd love to DOUBLE the money to $40K to fund potentially 2 rescue missions!! #thedream

7.) Lastly here's where you come in, please go to my pledge page & become informed!! there's many ways to donate with some cool things you can get. But for $10 you can donate + my gift to you of this awesome little record that I feel very motivated + moved to create for this cause. I know we are all being asked to give. honestly It's kind of a vulnerable feeling to put this all out there, it's hard to ask for help. I'm no big deal, but the CAUSE is + we've got this community to draw from & that's what this is about.

8.) Awareness + action = miracles 9.) Link to my pledge page in my profile! If you made it this far, thanks for reading.
Sounds like a very worthy cause…